djhaveboard.com
haveboard.com
Portfolio Site
All Projects
News Posts
12.05

2006
Too Black for BET
"Episode 2:
The Black Boy George
October 6th, October 28th, 2006
Reception with the artist:
Friday, October 6th, 7-11pm
12.05

2006

Reception with the artists:
Friday, September 1st, 7-11pm
12.05

2006

*Pat Graham *is the photographer who best captured the live performances of America's most loved & influential independent musicians during the 1990's & early 00's. His photos represent not just the bands but the scenes; the venues, audiences and instruments. He shows not only the public perfomances, but the behind-the-scenes; back stages, tour vans,hotel rooms, studios & record labels, bringing a very intimate perspective to his work.

Graham began shooting in high-school in Milwaukee, WI, but soon relocated to Washington DC where he worked extensively in and around the local & national music industry for over 10 years. During this period he toured endlessly with bands such as Modest Mouse, the Make Up, Tortoise & June of 44 across the USA and Europe.

His photos have been published in magazines including Rolling Stone, Spin Magazine ,Art Forum, NME, Dazed & Confused, Raygun, the Village Voice, the Washington Post, Washington City Paper, the Guardian, Punk Life, Punk Planet, Copper Press, Time Out,VICE, Tokion, Swindle, Guitar World, and the Chicago Reader; as well as books 'Dance of Days', 'Cinderella's Big Score', Fodor's 'Rock & Roll Travel Guide', and the Dischord Illustrated Catalogue.

In 2000 he moved his base to London, England. He co-founded contemporary art gallery, 96 Gillespie; a not for profit gallery dedicated to exhibiting American artists alongside their English counterparts in the UK. He works & exhibits internationally,frequently in collaboration with his wife, photograher/designer Melanie Standage.

His photos can be found in the Experence Music Project Museum, Seattle WA, The Arlington Municipal Art Collection, Arlington VA and in private collections around the world

Select exhibitions:

2006

96 Gillespie Gallery, London UK Heartfelt

96 Gillespie Gallery, London UK Summer Exhibition

• Retrospect (with Standage) Cultuur Centrum Luchtbal, Antwerp BE Nov/Dec 2005

• Everyone Sees the Sun (group show curated by Rich Jacobs) Galleri Loyal, Stockholm SWE Dec 2005

• Past Perfect (with Standage)

Transformer Gallery, Washington DC Oct/Nov 2005

96 Gillespie, London Jul/Aug 2004

• The Wildebeest (with Standage) 96 Gillespie , London UK July/ Aug 2005

• Move 3, 5, 8, 11, 12, 13 (group shows curated by Rich Jacobs)

Clementine Gallery, NYC, Jan/Feb 2005

New Image Art, LA, Jan/Feb 1999, Feb 2000, Jan 2005

96 Gillespie, London, UK, Nov/Dec 2004

• Hot Girls, Cool Guys & other stories (with Standage)

New Space Gallery, Portland OR Jul 2004;

Mission Space, Baltimore MD Sep/Oct 2003

Comet, Milwaukee WI 2002

• The Ascent of Western Civilization: American Independent Rock, 1976-1991

Threadwaxing Space, NYC, NY 1997

• Cynthia Connolly & Pat Graham's Touring Photoshow (with Connolly)

Various galleries across the USA 1996-1998

ICA London, UK 1997

Publications:

Silent Pictures
By Pat Graham
Akashic Books, NYC 2007

Punk is Dead: Punk is Everything!
By: Bryan Ray Turcotte and Doug Woods
Ginko Press 2006

Dance of Days:
Two Decades of Punk in the Nation's Capital
By Mark Andersen and Mark Jenkins
Soft Skull Press

Cinderella's Big Score:
Women of the Punk and Indie Underground
By:Maria Raha
Avalon Publishing Group 2005

www.patgraham.org

www.96gillespie.com

www.flickr.com/photos/patgraham/

Photographer & designer Melanie Standage was born in London, England – one
of 3 children of psychiatrist KF Standage and their public health nurse
mother, Angela. Her family moved to Newfoundland when she was a child,
throwing her into an observational role within a new culture.

Standage received her first camera at 6 years old & has been photographing
ever since. Her practice is very much influenced by the books, magazines,
tv shows & films that she turned to as a child & teenager. Her projects
investigate identity, both personal & cultural; frequently exploring the
impact of cultural myths & expectations on individuals as well as the
wider social landscape.

A successful commercial interaction designer she has led numerous large
scale projects for global & national businesses, including: Waitrose,
Woolworths, Argos, Philips, Great Universal, Thomas Cook, Nokia, Nokia
Siemens Networks & more.

She co-founded & directs 96 Gillespie, a contemporary art gallery in
London, in 2003 with parter Pat Graham. The gallery operates lively
schedule of exhibitions & is dedicated to encouraging and supporting a
dialogue between US & UK artists & to being a significant venue for
American artists in England.

Current, recent & touring exhibitions (with Pat Graham)

'Retrospect'
Cultuurcentrum Luchtbal, Antwerp BE . Nov-Dec 2005

'Past Perfect'
Transformer Gallery, Washington DC . Oct-Nov 2005
96 Gillespie, London UK . August 2004

'The Wildebeest'
96 Gillespie, London UK . August 2005

'Hot Girls . Cool Guys & other stories'
Newspace Gallery, Portland OR July 2004
Mission Space, Baltimore MD . Sept 2003
Comet, Milwaukee WI . August 2002

Current & recent group exhibitions

'Heartfelt: Contemporary Arts & Crafts', 96 Gillespie, London UK Dec 2006
'Fresh', the Renaissance Society, Chicago, IL Sep 2006
'Summer Exhibition' 96 Gillespie, London UK Jul/Aug 2006
'Everyone sees the sun',Galleri Loyal, Stockholm Dec 2005
'We don't know you', Camp Fig, Austin TX May 2005
Rich Jacob's 'Move (13)', Clementine Gallery, NYC Mar 2005
Rich Jacob's 'Move (12)', New Image Gallery, LA Jan 2005
Rich Jacob's 'Move (11)', 96 Gillespie, London Dec 2004
—————————————————————————-

images jan show
From: pat graham Date: November 27, 2006 9:41:19 AM EST
To: maximillian lawrence , maximillian lawrence
Subject: images

Hi Max,

Heres some images for you to have a look at, let me know if you need any hi res, or anything else to help with press…
also check these links for images as well:

http://www.96gillespie.com/archives/past_perfect/index.htm

http://www.96gillespie.com/archives/wildebeest/index.htm

http://www.flickr.com/photos/patgraham/

Thanks!

Subject: press release

Hi Max,

Heres the press release, let me know if its ok, and if you need to re work it…
I will be sending bios and images over next…
Cheers,
Pat

Retrospect is a collection of 3 smaller installations: 'Past Perfect',
'The Wildebeest' & 'A Forest'

'Retrospect' has previously shown at the Cultuur Centrum Luchtbal, Antwerp
Belgium Nov-Jan 2005/06

—————————————————————————————————————————————————————

'Past Perfect' is an exhibition of approx 1000 Polaroid photos taken
between 1982 & 2006, but primarily over the years 1998- 2004. The
photographers used a collection of Polaroid cameras, many old &
requiring adaptation to conform to modern film stocks.

The exhibition functions as a diary of the lives of these 2 working
photographers, providing informal portraits of artists, musicians &
friends; as well as landscapes, urban scenes, animals, flowers, colour
theory, architecture & more. The series is displayed in theme driven
panels, delivering a compelling visual experience that engages the viewer
on a physical & emotional level.

Pat & Melanie have been communicating & inspiring each other in this
series since 1997. Together they have used the format to record
fragments of time within a disposable culture. The exhibition brings
together a bit of everything: Pat's touring photos from the USA &
Europe; Melanie's street series 'Small breed dogs of London & other
places'; live shots from rock shows & parties; family events; skies; on
the side at any photoshoot.

The installation itself comprises hundreds of individual art pieces that
stand as a definitive 'whole'. the artists have created modular displays
that comprise a mix & match approach to art making.

Content themes pop culture icons . portraits . skyscapes . friends .
family . architecture . parties . small breed dog . bassett hounds . food
. cityscapes . touring . rock shows . flowers . landscapes . self
portraits.

Musicians included Air . Modest Mouse . Fugazi . Quickspace . the Shins
June of 44 . Sea & cake . the Makeup . Royal Trux . Tortoise . the Evens .
Ted Leo . the Pharmacists . Geoff Farina . French Toast . Part Chimp .
Cass Mccombs . Elliot Smith . Jenny Toomey . Judah Bauer . Brett Anderson
(Suede) . Penny Rimbaud . Les Savy Fav . Sarah Cracknell (St Etienne) . At
the drive in, & more

– Past Perfect has previously shown at

'Transformer Gallery', Washington DC Oct/Nov 2005
'96 Gillespie Gallery', London July/Aug 2004

—————————————————————————————————————————————————————

'The Wildebeest' is an allegorical photo installation that chases the
themes of time, visual consumption, identity, movement, travel, growth,
the difference between real & perceived experience, cultural icons,
friends & highways.

The photographic narrative uses a perspective, through-the-lens, to tell
its tale.

The focal point emanates from Highbury in north London but follows the
couple across the highwys & bi-ways of America & western Europe as well as
backwards through recent history(personal, cultural,political).

True to form Graham/Standage deliver a density of images(all handprinted
in their basement). Coarsing round the gallery the installation overwhelms
the viewer with visions from their journeys.

– The Wildebeest has previously shown at
'96 Gillespie Gallery', London July/Aug 2005
—————————————————————————————————————————————————————

'A Forest' is an photographic installation featuring photos of trees
presented on a tabletop in frames made of recycled wood by Wisconsin
craftsman Ken Collins.

The title is taken from a Cure song on the album 'Seventeen Seconds'. The
song 'A Forest' is a pop gothic journey through a dream, where Robert
Smith chases an elusive woman/apparition through the trees.

Graham & Standage's 'A Forest' is a decorative installation featuring
portraits of trees often obscured by foreground objects or overlayed
elements. In their interpretation the forest itself becomes the object of
desire, the object of mythicism & denial.
——————————————————–

'Retrospect' includes approx 1200 images and will fill the gallery's
available floorspace. (1000 sq ft).
xxxxxxxxxxxxxx
12.05

2006
FOR IMMEDIATE RELEASE
Space 1026 Annual Art Auction:
FRIDAY December 15th
6:30pm doors
9:00pm auction
Space 1026 will be holding its annual art auction on FRIDAY December 15th concurrently with the opening of the "Flipbook Festival" – a touring show of flipbooks from around the world. The doors will open at 6:30pm at which time participants can bid on work laid out around the gallery in a silent auction and get a sneak peak at the work which will be sold in the more competitive vocal auction, which begins at 9:00pm.
This year the auction is being coordinated by the awesome local curator/artist Damian Weinkrantz.
Todd Kimmel is back this year as auctioneer.
The auction, which helps insure that the collectively run gallery/studio space will exist another year, will feature donated artwork from members and a wide range of friends. Past donations have come from art-stars such as: Barry McGee, Shepard Fairey, Steve "ESPO" Powers, Paper Rad, Brian Chippendale, Clare Rojas, Judith Schaector, and many others. You will also find many locals donating goods and services such as free video rentals, massages, websites, recording studio time, and much more.
To make a donation to the auction please email Damian Weinkrantz or send to:
Space 1026
ATTN: Damian Weinkrantz
1026 Arch St. 2nd floor
Philadelphia, PA 19107
Contact:
Damian Weinkrantz
simplesemantics@yahoo.com
Please include two copies of a sheet with:
Name, contact info, title of work, suggested opening bid, and bio of yourself (so we can brag about you).
SPACE 1026
1026 Arch Street, 2nd Floor
Philadelphia
215.574.7630
12.05

2006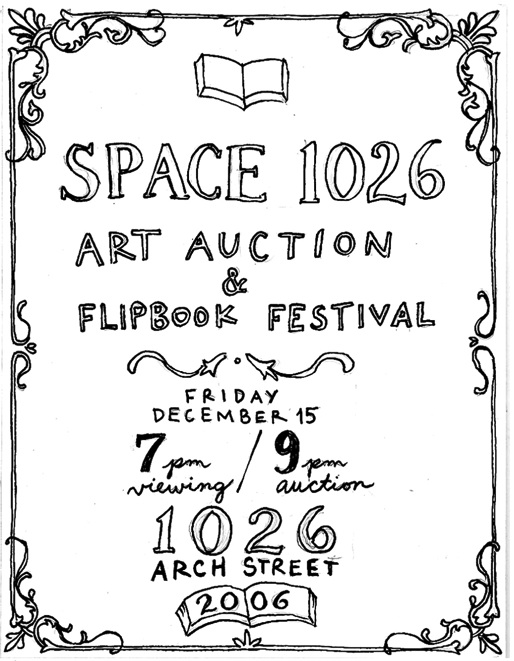 Space 1026 is proud to present:
The International Flipbook Festival 2006
The opening reception will coicide with the Space 1026 Annual Art Auction:
Friday December 15, 6:30PM to 11PM.
The show runs until December 29.
The International Flipbook Festival is a celebration of hand-powered cinema. This exhibition presents over one hundred flipbooks made by contemporary artists throughout Europe and North America.
Devised four years ago by artist Andrew Jeffrey Wright as a film festival without the film, each of the flipbooks have been submitted into one of four categories: Live Action, Animation, Experimental, and Documentary.
The International Flipbook Festival will be touring to Space 1026 in Philadelphia, Pennsylvania; Little Cakes Gallery in New York City; Western Front Gallery in Vancouver, Canada and has already made a stop at Reg Vardy Gallery in Sunderland, UK.
Any questions contact Andrew Jeffrey Wright at: ajwspace1026@yahoo.com
12.05

2006
Mutation Collapse (Sci-Fi Horror Play, Provedence)
Bunny Brains
Nathan Whipple
XPPL
$5 7:30 Sharp
SPACE 1026
1026 Arch Street, 2nd Floor
Philadelphia
215.574.7630
Experimental People Productions Presents
D.Mocean (ex-Dreamhouse, Boston)
12.05

2006

from John freeborn:

Hello. My wife (Amy S. Kauffman) and my friend (Andrew Jeffrey Wright) are in a show at the Art Institute of Philadelphia. The show opening is this Thursday night from 5 PM to 8 PM. Come by and check it out. If you can
12.03

2006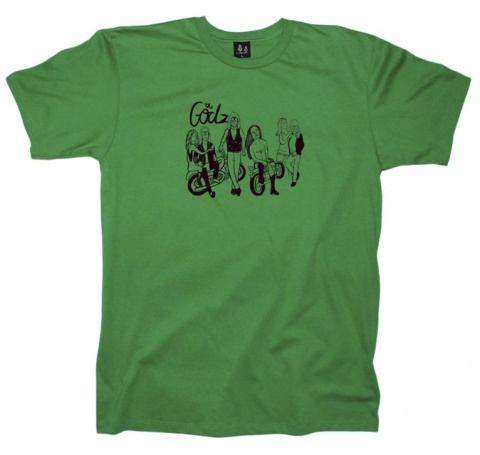 Thom Lessner has a TShirt for sale at Crownfarmer. You should buy one.

Starting today and for the next 12 months we're going to be offering 2 new artist t-shirts per month, designed by 2 of our favorite artists, with a 30 day window for ordering.
The designs will appear on our site the first day of each month and you'll have that one month to order them and then they're gone, gone.
Have a look at the larger images of this month's shirts designed by Matt Irving and Thom Lessner on our web site. They're being printed to order and sent out all at once, at the beginning of January.
Take care,
Crownfarmer