djhaveboard.com
haveboard.com
Portfolio Site
All Projects
News Posts
10.05

2006
One Wall Is An Edge
Opening this Friday October 6th
7:00-11:00pm Scheduled to run from Oct 6th to the 28th.
www.blackfloorgallery.com
Luren Jenison creates a panoramic installation of landscape andshelter. The space inside becomes a hospitable no-man's land with itsown borders.
Luren Jenison is a recent graduate of Rhode Island School of Designfrom the department of Textile Design. She has been working within thescale of environment creation through interior design and textiledesign, as well as installation. Her interests in the decorative artslie mainly in the intersection of the surreal and the conventional.
She collects images and examples of the bizzare, the grotesque, andthe unexpected in designs for the home, and filters them through herpersonal style and color taste to create new works. She is currentlyliving and working in Philadelphia.
10.03

2006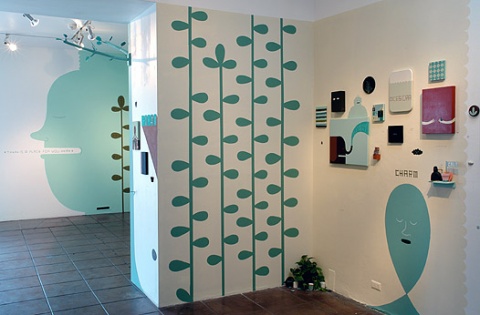 Did everyone see the Jim Houser Interview?
10.02

2006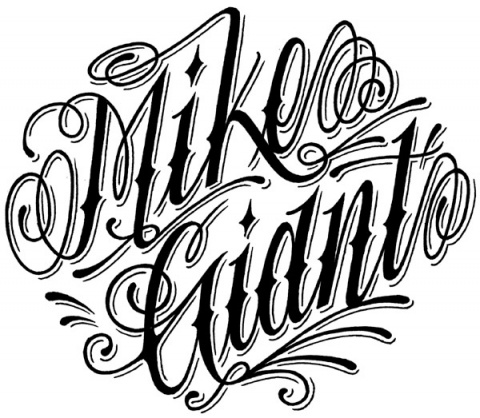 There haven't been many updates because the blog has been broke. All seems to be well now. I recently finished up a redesign of Mike Giant Dot Com with tony. I've been real busy.
08.22

2006
Andrew Jeffrey Wright vs Noah Lyon
opening battle, saturday september 2, 2006, 8pm til12am
show runs september 2 -28, 2006
Padlock Gallery
1409 Ellsworth St.
Philadelphia, USA
www.padlockgallery.com
show explanation:
One night, in the year 2004, in Cincinatti Ohio atan art opening at the Mockbee for the show BeaverCollege, Noah Lyon was selling his buttons on a merchtable. While other artists made 10 to $40 sellingtheir zines and posters on the same table, Noah madeover $400 in button sales alone. Fellow artist AndrewJeffery Wright was amazed by Noah's feat and decidedhe would no longer put off his own button making andstart producing the $1 fashion items himself. To dateAndrew has not sold more than $50 in buttons in asingle night of merch table sales. Convinced his ideasare as smart and interesting as Noah's he challengedNoah to a button battle art show to be held at thePadlock Gallery in Philadelphia. Whoever sells themost buttons at the opening wins battle one! Whoeversells the most buttons during the rest of the monthwins battle two! The artists will also be showingscreen prints, zines and t-shirts.
Noah Lyon lives in New York City and has had soloshows from Stockholm, Sweden to Columbus, Ohio.www.retardriot.com
Andrew Jeffrey Wright lives in Philadlphia and is afounding member of Space 1026.space1026.com
contact: andrew jeffrey wright
ajwspace1026@yahoo.com
08.03

2006
Plastic Little performing tonight!
with : Mahi Mahi and Triangle Forest
Space 1026 Arch Street, Philadelphia at 8pm on August 3rd for 5 dollars
08.01

2006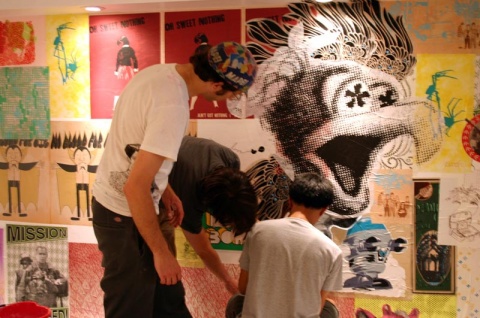 Magic Pony has a Flickr Set of the toronto show!
08.01

2006
In case you missed it on the splash page:
paintings,drawings and photography by Andrew Clark.August 4th through August 27th
Reception with the artist:
Friday, August 4th, 7-11pm
07.25

2006
Hey All You Artists,
The fundraiser is rapidly approaching! So far, so great! Manyfantastic pieces of varying types of media have come in. As well asgift certificates for great local restaurants, shops and concerttickets. Friends and Mom's are baking cookies and brownies for thefundraiser. The generosity from you Philly folk is truly overwhelming.A press release has been sent out to all the local papers, radio andnews. The event is really coming together
07.10

2006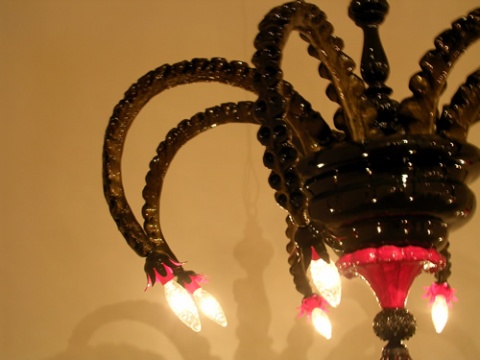 Check out the interview with Adam Wallacavage at lifeinabungalo.com
06.29

2006
yup, its gonna be sweet. Check Haveboard.com for details!