All Projects


News Posts
11.07

2012

PLEASE DONATE TO THIS DOPE PROJECT
09.24

2012
Yesterday (sunday the 23rd.) it ruled!
04.11

2012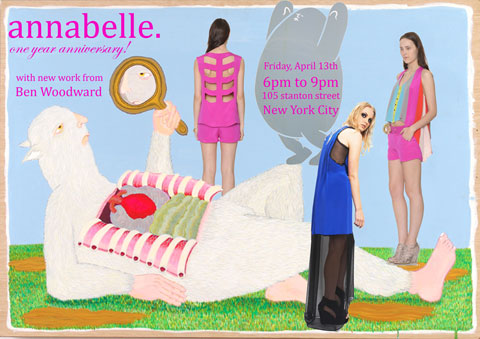 Please join us!
to celebrate the one year anniversary of
annabelle.
by anna mccraney
105 stanton street
new york city
www.annabellenyc.com
on Thursday, Friday, April 13th
cocktails will be served
from 6pm to 9pm
featuring new work by Ben Woodward
www.pinkandyellowstudios.com
At 8pm there will be a raffle of one of our best selling styles and a print from one of our artists!
afterparty to be announced!
please RSVP to info@annabellenyc.com
12.16

2011
Space 1026 presents their annual art market style flea market.
Come buy stuff like screen prints, zines, t-shirts, buttons, dvds, records, original works of art and MORE!
From Space 1026 artsits such as Lance Simmons, Bonnie Brenda Scott, Joanna Quigley, Michael Gerkovich, Crystal Kovacs, Leah Mackin, Matt Leines, Ben Woodward, Jacob Marcinek, Anni Altshuler , Andrew Jeffrey Wright and more!
11am to 4pm
Saturday December 17th
12.01

2011

Bellow are a few donations that will be auctioned on Friday, December 9th!

For additional details view the Auction Info Page!

Even more donations will be available to preview here.
04.26

2011

Hosted by Rose Luardo and Andrew Jeffrey Wright
Featuring Gazebo-Flax, Matt McCusker, Karl Beyer, David Ray, Brendan Kennedy,
Body Dreamz, Jacob Marcinek, Camp Woods, Shenanigans Hannigan and Laris Kreslins!
Videos by Funny Blood and Catch-22!
Djs Kurt Life and Emilio Airhorn!

Doors 9pm / Comedy 10 – 11 / Dance Party 11:31 – 2am

the Barbary
951 Frankford and Delaware Ave.
Philadelphia.
02.03

2011

…At the Zine Workshop.
01.16

2011

Make a donation today.
12.14

2010
Saturday December 18th, noon – 6pm
t-shirts, zines, american beardos, books, records, cds, cookies, prints, shanks, old stuff, calenders and a very special NAIL SALON!!!!!!!!!!!!!!
all by Space 1026ers Caitlin Perkins, Anni Altshuler, Michael Gerkovich, James Ulmer, Andrew Jeffrey Wright, Joanna Quigley, Bill McRight, Bonnie Brenda Scott, Emilia Brnitnall Leah Mackin and more and friends like Aryon Hoselton and more!!!!