News Posts
10.04

2016
ULTRA-BLUSTER
October 7th – October 28th
Opening Reception Friday October 7th 6-10 p.m.
———————————————————————-
Closing Reception Friday October 28th 7-11 p.m.
Kerry Kenney
Rodger Binyone
Jesse Van Anglen / Brett Acker / Josh Mills / Kate Blofson / Pete Whitney / Nate Gavin
Soundscapes: Shape Denter/ Mer'In Swann/ Wylde Pyle/ Aura Tiff/ Pancake Accelerator/ The Dirners
Space 1026 is excited to present Ultra-Bluster, a group show featuring new work by Philadelphia artists Kerry Kenney and Rodger Binyone. Ultra-Bluster is a collectively conceived universe of visual art, music and table game systems exploring the motifs and concepts of mythology, cosmology, geometry and science fiction. Kenney uses the airbrush to blend the imaginary and the hyper real, weaving futuristic loose soccer themes into multi-player, mini sport arena, gaming systems. Binyone and Kenney expound upon a visual vocabulary rooted in their music experimentations with co-collaborator Jesse Van Anglen, to release a screen printed 3-D elemental, UV light reactive, & partially phosphorescent book/zine. As music is intrinsic to ceremony, tournament anthems in the guise of an Ultra-Bluster soundtrack will play throughout. More friends rally in team formation to initiate the plane for this interactive playing field. Space 1026 gallery is now a synergy of gaming stations, prints, and audio enhancements exploring the societal paradigm of the ritual and the sacred within the social narrative of sports, all made possible by you the guest player, please come join us and play!
02.20

2016
http://www.theartblog.org/2016/02/eland-ward-unsettling-scenes-daily-life-space-1026/
02.04

2016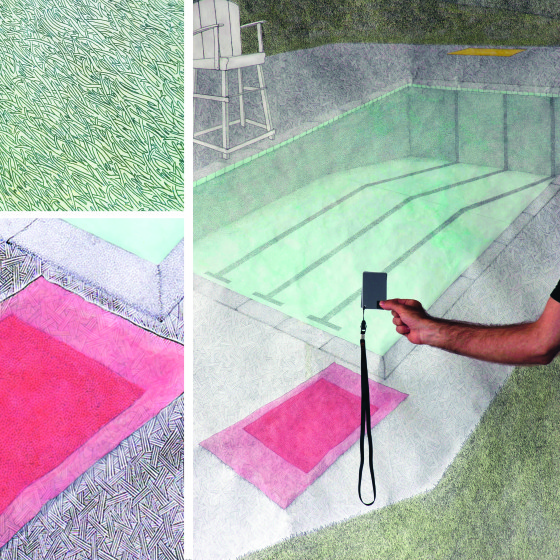 Opening Reception // February 5th         7-10 p.m.
Space 1026 presents new work by Brooklyn based artist Eland Ward.  Join us for this exhibition of large scale works on paper!  Atmospheric and meditative, these studies explore the tension between the mundane activity that constitutes the majority of our waking hours and under the daily conditions of production and consumption.  Ward succeeds through process to reclaim the quiet space from the always connected, yet simultaneously fragmented digital world in which we share.