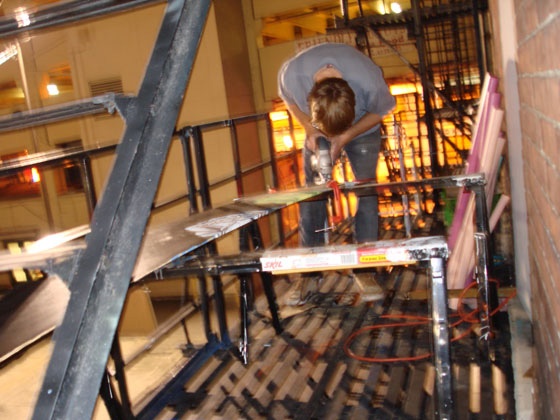 All Projects
News Posts
04.26

2011

Hosted by Rose Luardo and Andrew Jeffrey Wright
Featuring Gazebo-Flax, Matt McCusker, Karl Beyer, David Ray, Brendan Kennedy,
Body Dreamz, Jacob Marcinek, Camp Woods, Shenanigans Hannigan and Laris Kreslins!
Videos by Funny Blood and Catch-22!
Djs Kurt Life and Emilio Airhorn!

Doors 9pm / Comedy 10 – 11 / Dance Party 11:31 – 2am

the Barbary
951 Frankford and Delaware Ave.
Philadelphia.
02.03

2011

…At the Zine Workshop.
01.16

2011

Make a donation today.
12.14

2010
Saturday December 18th, noon – 6pm
t-shirts, zines, american beardos, books, records, cds, cookies, prints, shanks, old stuff, calenders and a very special NAIL SALON!!!!!!!!!!!!!!
all by Space 1026ers Caitlin Perkins, Anni Altshuler, Michael Gerkovich, James Ulmer, Andrew Jeffrey Wright, Joanna Quigley, Bill McRight, Bonnie Brenda Scott, Emilia Brnitnall Leah Mackin and more and friends like Aryon Hoselton and more!!!!
12.04

2010

WACKY WORD READERS: A Night of Written Comedy Read Out Loud. Poems, Short Stories, Letters, Diary Entries, Short Plays, Shopping Lists, Emails, Karaoke and more!

With the comedic talents of Eric Osterman, Malwina, Michael Gerkovich, Jacob Marcinek, Will Dean, Meg and Rob, Joanna Quigley, Mike Robinson, Jessica Ciocci, David L. Byrne, Hillary Rea, Joe Stakun, Andrew Jeffrey Wright and more!

Space 1026
doors 8pm
comedy 8:30 – 10pm
$donation$

Space 1026
1026 Arch St.
2nd fl.
Phila., PA 19107
07.28

2010
Wednesday, July 28th,7:30 pm
Special Screening
in Honor of Andy Kessler
Deathbowl to Downtown: The Evolution of Skateboarding New York City
Dir. Coan Nichols and Rick Charnoski (2009)
87 min.
Deathbowl to Downtown documents the shift in skateboarding primacy from the parks and the pools of sunny California in the 70's to the gritty streets of New York in the 90's. This transition also foretells the recent hybrid uptake of skateboard culture in Harlem and other communities of color.
Panel Discussion and Reception to follow!
Thursday, July 29th, 6pm
Screening in Honor of Harold Hunter
Skating @ Lenox Ledges (110th and Lenox)
Followed by an 8pm screening at Maysles Cinema
Legends Never Die
Harold Hunter Tribute
15 Years of NYC Skteboarding ( 95'-'10) by R.B. Umali.
In the Streets – Steve Marino
55 Nights on Your Couch – 5boro
Reception to follow!
Maysles Cinema
343 Lenox ave
bet 127&128th st
HARLEM
www.mayslesinstitute.org
$10 Suggested Donation
06.24

2010
TONIGHT
8:00PM Daring Stories of Ladies United by the Sea
Created by Tiffany Campbell and Andria Lessler Dear & Yonder features a diverse cast of ladies united by their love of the sea. Their dynamic skills and personalities shine as the film follows them around the world to just around the corner.
$5 suggested donation
for more info on the event email
crystalstokowski at space1026.com
06.21

2010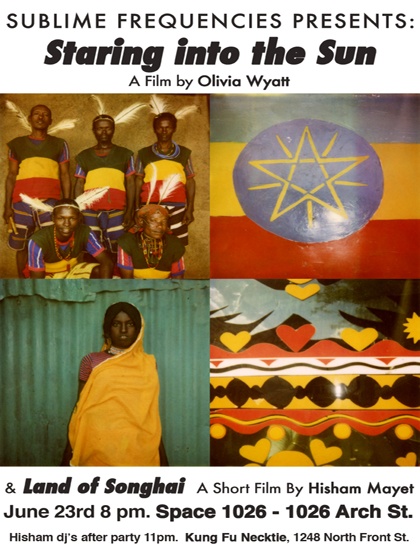 6.23.10
8:00PM Staring into the Sun
A film by Olivia Wyatt
60 minutes
Staring into the Sun is the latest ethno-folk cinema classic from Sublime Frequencies. Ethiopia is known to be one of the oldest areas inhabited by humans and presently has over 80 diverse ethnic groups. Photographer/filmmaker Olivia Wyatt explores 13 different tribes throughout Ethiopia in this visually stunning film. Traveling from the northern highlands to the lower Omo Valley, Wyatt brings together the worlds of Zar spirit possession; Hamer tribal wedding ceremonies; Borena water well polyphonic singing; wild hyena feedings; and bizarre Ethiopian TV segments; presenting an enchanting look at these ethereal images, landscapes and sounds from the horn of Africa. The tribes featured in this film are captured with an unflinching sense of realism and poetic admiration resulting in a visual and aural feast of the senses.
Land of the Songhai
A film By Hisham Mayet
30 minutes
Hisham Mayet's latest film explores the music and landscape of the Songhai, around the Niger River in Western Niger. Zarma mock possession hoedowns, Wodaabe trance vocal performances, Spirit possession ceremonies, Godje one sting laments, contigi string masters, comsaa griots and Sahel night markets create a bizarre and fascinating glimpse into the arid and culturally vibrant bend in the Niger river.
sublime frequencies
staring into the sun trailer
$5 suggested donation
hisham mayet dj after party @ kung fu necktie
for more info email:
crystalstokowski at space1026.com
03.31

2010
Artist Dwayne Boone of Philadelphia Developmental Disabilities Corporation (PDDC) will be having his first solo exhibition at Space 1026 Gallery this April. A prolific painter, Boone will be showing over 150 portraits, landscapes, wildlife paintings, and several sculptural works, all created within the last year. Boone will also be creating a large, site-specific mural in the gallery space. Boone, who was recently featured on Channel 6 news uses his paintings to create a world both gritty and magical – and his work emerges as distinctly Philadelphian.
Dwayne Boone's artistic talent has been recognized by many in the disabilities field, but this is the first exhibition for Boone that is strictly based on the quality of his artistic style and vision. Boone's fresh, folk art style and love of topical subjects, makes for a perfect match for the Space 1026 gallery. Please join us on First Friday, April 2nd from 6-10pm, for the reception and to meet the artist.
Dwayne Boone's Art Gallery
April 2nd – 30th
Reception: First Friday, April 2nd, 6 – 10 pm
Space 1026
1026 Arch Street, 2nd Floor (only accessible by stairs)
Philadelphia, PA 19107
To see some of Dwayne's recent paintings, click here.
For more information:
Please contact Kay Healy at kays.healy@gmail.com
or 215-574-7630.