Adam Wallacavage
WWW.ADAMWALLACAVAGE.COMWWW.MONSTERSIZEMONSTERS.COMWWW.JONATHANLEVINEGALLERY.COMI am a photographer, sculptor, mold maker, silkscreener, carpenter, interior designer. I like doing all kinds of different things. I bought an old house in South Philly 6 years ago and have been renovating it into some sort of crazy Victorian fun house. Through this process, I started making plaster chandeliers that look like octopuses. I am now represented by the Jonathan LeVine gallery in NYC. I also shoot photos for Swindle Magazine and enjoy spear fishing in Wildwood, NJ. I have a book out from Ginko press called "Monster Size Monsters" and it is a 15 year retrospective of my photography. You can buy it through Jonathan LeVine gallery website.
Ed Templeton photo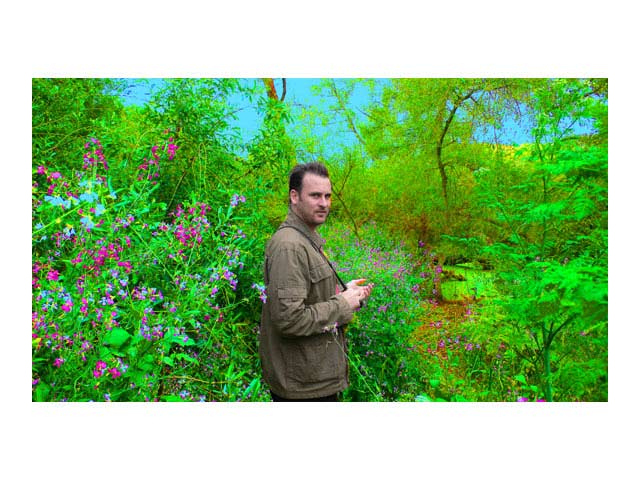 This is a photo of Ed Templeton I shot that I totally made trippy in the photoshop. It was shot in this crazy field near Ed and Deanna's house. It was fun watching Ed lurk around shooting photos of kids doing things.
Mc Bat Commander and Cobra man
This is my friend, MC Bat Commander of the band, The Aqua Bats. I have been friends with Mr MC Bat Commander for a while before I ever knew he was even in a band. He used to be a child star, I didn't know that either til Jim Houser told me. Anyway, I invited him over my house for dinner and Cobraman showed up all pissed, I mean Hissed, and spoiled the chill super rad atmosphere. Like, totally….
Self Portrait with AK-47
I shot this photo of myself when I was in the war. It was my job to protect the watch tower at the Fairmont prison. I did a really good job and later, Peace prevailed and flowers grew.
She's Mature album cover
I shot this photo of Earsnot and Steve Powers art directed it. I like dropping names. I am friends with Jayson from Plastic little and the old bass player from the Buzzcocks
Pot do Drugs
Some kids or some "ironic" "street artist" wrote this on a wall in NJ. I thought it was funny. The real image is in color. This one is black and white.
Slayer
This is the dude from the band, Slayer. I shot photos of them on the stage. Normally you are not allowed to do that. I was allowed for a couple of songs and it was really special.
Plastic Little @ tritone
I like this photo because these guys are funny even though I don't know what they are talking about. Jayson is pouring beer on his head and it looks like "the bling" or whatever it's called.
Me and Striped bass
Yes, I am showing off and if I had a baby, the photo of the baby would be here.
Diningroom Studio shot
I shot this photo of my studio while working on my show at the Jonathan LeVine gallery.
Lightning Bolt @ Space 1026.
This was during one of the Fort Thunder shows at Space 1026. I like them.
Ryan Dunn Trocadero Theatre. Photograph
I shot this photo of Ryan Dunn at a CKY concert. Ryan can't do things like this anymore. He has wrecked himself too good over the years.
Fenicologia
This is a chandelier I made in collaboration with jewelry designer, Tarina Tarantino.
Monster Size Monsters silkscreen print
I made this in school a long time ago. I named my book after its' title cause I liked it
Monster Size Monsters
15 year retrospective of my photography. Designed by the great Tony Smyrski. Published by Ginko Press and compiled by Roger Gastman.