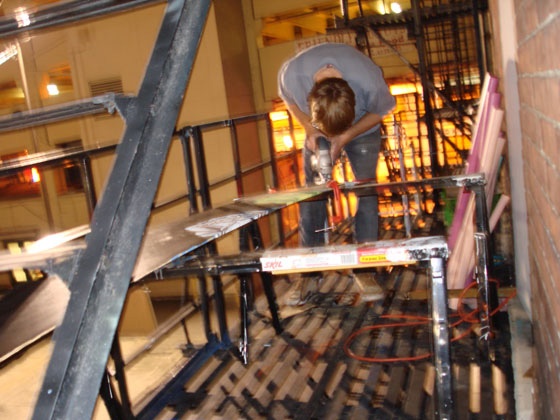 All Projects
News Posts
12.09

2020
Three ways to bid:
Instagram:
https://www.instagram.com/space1026/
Zoom:
https://us02web.zoom.us/j/83256255599
02.12

2020
SPACE 1026 Part 1 is over! 22 years and fin! Thanks to all for the support and experiencing it with us. We had a real life happen at 1026 Arch and our new life, SPACE 1026 Part 2, has begun at 844 N. Broad. Join us there. Foreverrrr!
09.28

2018
We've never had a yard and soon we won't have a building. We are cleaning out our studios and flat files! Come and get art supplies, prints, nic-nacs, bric-a-bracs, stuff from the walls of Space 1026 and who knows what else!
SUNDAY SEPTEMBER 30th
10am-6pm
at Space 1026
1026 Arch St.
2nd fl.
Philadelphia
Image by @procrastonate
08.02

2016

Lets open our minds to the ultimate energy of the Galaxies.
We must come together as a human race before we can
explore the Cosmos. Positive Energy to the Universe.

Bio;

Tyler Wolf graduated from East Carolina University in 2001 with a BFA in painting and is a former Team Lump member of Lump Gallery in Raleigh, NC. While in school, he co-founded the band Valient Thorr. In a decade and a half, and over 1300 shows from NC to Lisbon, Portugal, Budapest, London, and from California to NYC he stayed busy helping to spread a message of cosmic positivity through rock and roll. In downtime, he painted and had small shows that accompanied the tour, and it was painting that ultimately called him home in 2014.

In his recent work, he deals with the exploration of the modern world by examining the myths and legends of ancient cultures. In an age of technological advancement, are we losing what it means to be human? Is technology controlling us? Or are these advancements improving the human race.

His work has been featured on albums and t-shirts for High on Fire, Future Islands, Red Fang, Valient Thorr and several Volcom releases.
01.05

2016
Cheers to a new year and another chance for us to get it right.
09.30

2015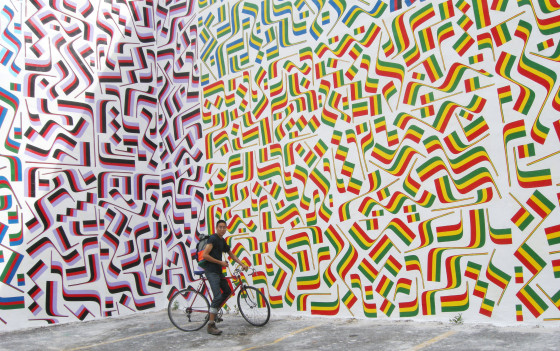 While Jason looks on…
04.25

2015

THIS Sunday!! April 26th
7:30pm
$10.00
@Space 1026
1026 Arch Street 2nd floor
04.19

2015
Lucas Leyden (Little Berlin) and Lauren Karstens (FDV Collective) invite you to participate in the inaugural Art Convention 2015 held at Little Berlin (2340 E Coral St. Philadelphia, PA 19125) The day of the convention will be filled with performance, visual art, lectures, vendors and much more. Participating collectives will be assigned shared spaces in the gallery and courtyards.
02.06

2015

Exhibition Dates: February 6th-28th 2015

Opening Reception:
February 6th 2015
7-10pm
Space 1026 is pleased to present Unfold All Over, an upcoming solo exhibition of new paintings by Lynnea Holland-Weiss. Unfold All Over is filled with large figurative paintings full of mood, color and pattern that delve into our human instincts and the mystery of being.
How does one navigate the unknown? The process of making decisions, the course of actions and the limitlessness of how it all may unfurl. This body of work reflects on the crammed noise and unsure banter as well as the in between moments of clarity and decisive momentum. Life progresses and unfolds, and these large figurative paintings capture the moments and feelings involved in traveling through change and transition. Lynnea states that "with painting, I am always more interested in creating a mood, than telling a story. I want to evoke, rather than inform. The specificity of the experience is no longer important, the underlying tone or mood is what I am after." The color and the way in which each figure is painted, whether flat and graphic, loose and gestural, or rendered and realistic, often expresses even more than that which is being represented. This variety of approaches then creates a complex visual and emotional dialogue within each painting.
Lynnea Holland-Weiss is a painter originally from Oakland, CA. There she received her BFA from California College of the Arts. She spent last year traveling around the country and abroad painting murals, and has now found herself settled in Philadelphia, PA. Her experiences on the road and moving across the country are undeniably reflected and represented in Unfold All Over. Lynnea's murals and street art live in California, New Mexico, Louisiana, Ohio, Massachusetts and Brazil. Her work has been exhibited in galleries in San Francisco, Oakland, Berkeley, Philadelphia and Atlanta, and she was an Artist in Residence in Hawaii through the Holualoa Foundation for Arts and Culture. Her background is in Dance, therefore the human body, its expression, gestures and movement, often inspire and inform her painting practice, process and the content of her work.