Liz Rywelski
www.lizrywelski.com
Liz Rywelski was born and raised in Massapeaqua, NY, spending her summers with family on Lake Champlain in Willsboro, NY. She attained her BFA at Moore College of Art and Design in Philadelphia. Liz became a Space 1026 member in 2002 and remains Philadelphia continuing her own body of work, as well as working with collaborators. Her best known work is seen in the American Portraits series, Text Messages, and The Septa Letters..
Click on the thumbnail's at the right to view.
EXHIBITION RECORD
2008Parking Gallery, 1st International Roaming Biennial of Tehran, Istanbul, Turkey, and Tehran, Iran
The South Philly Biennial, w.southphillybiennial.blogspot.com
2007
DCAC, Sloganeers, Washington DC
The Institute of Contemporary Art, Locally Localized Gravity, Philadelphia
2006
The Myerson Gallery, Philadelphia PA Vernacular Spectacular
The Midwives Collective, Acting 101 Philadelphia PA
LIT Gallery, NY NY Drawing Show
The Padlock Gallery, Philadelphia PA Exquisite Corpse
Rx Gallery San Francisco CA Shopping
Yerba Buena Center San Francisco CA Group show with Royal Art Lodge, Space 1026 and Instant Coffee
2005
Joymore Gallery, Miami Basel Art Fair
Better Than Toast, Listen To Sweatheart, Saratoga Springs NY
Esther M Klein Gallery, The Faux Show, Philadelphia PA
Joymore Gallery, Brooklyn NY Precious Moments
Space 1026, Philadelphia PA Santa Fe 2006
Ashley gallery, Philadelphia, PA Lubrica Mi Vida
The P4 Gallery, Milan Italy, The Urban Edge Show
2004
Antisocial Gallery, Everybody Rules Everything, Vancouver, BC
Goldie Paley Gallery, Philadelphia Selections 5, Philadelphia, PA
The Mockbee Gallery, Beaver College, Ohio
Mimi Barr Gallery, Paper Awesome!, A drawing show, San Francisco, CA
Arcadia University, Works on Paper 2004, curated by Jordan Kantor, MOMA
The Fleisher-Ollman Gallery, The New Acropolis, An invitational exhibition of young Philadelphia artists, Philadelphia, PA
Space1026, Man, I Feel Like a Woman, Philadelphia, PA
2003
Repo Records, the Pornography of Emotion, a so-low drawing exhibition, Repo Records, Philadelphia PA
the bad touch, A Drawing Show, Curated by Lump Lipschitz
Keith Talent Gallery, London, UK, The Rose Museum, Boston MA, LUMP Gallery, NC, The Ukrainian Museum, Chicago IL
SELECT BIBLIOGRAPHY
Cotter, Holland, "Precious Moments", The New York Times, August 19, 2005 (with Illustration)
Goings On About Town, "Precious Moments at Joymore Gallery", The New Yorker, August 12, 2005
Burket, Brent, "Joy Found In Williamsburg", artblog, www.artblog.com, August 2005 (with illustrations)
Shafrir, Doree, "Space Odyssey", The Philadelphia Weekly, July 2005
Rice, Robin," Shiny Happy People", The City Paper. August 26, 2004
Pym, William, Rockpile magazine, Issue #102 (with illustrations)
Complex Magazine, Nike Trading Card Illustration, October 2003 (with illustrations)
Work Magazine, Issue One, March 2004, "YOU ARE IN OR YOU ARE OUT"
Work magazine, Issue Five, June 2004, "TURN UP THE HEAT", www.workmag.net
Maybe Magazine, Issue #4, April 2004, www.maybemagazine.com
The Philadelphia Independent, "The SEPTA Letters", Issue 14-21
Budget Living Magazine, August/September 2004 (with illustrations)
VISITING ARTIST LECTURES
"Auditions for The Talent Show: Applying to internships and juried exhibitions", Moore College of Art and Design, April 2008
Foundations Lecture Series, Moore College of Art and Design, October 2006
Foundations Lecture Series, Moore College of Art and Design, October 2005
GALLERY AFFILIATION
Space 1026 Gallery, Curating Member 2002-2006
The Philadelphia Institute for Advanced Study, Member 2007- Present
PROFESSIONAL AND COMMUNITY SERVICE
Representative for 2005 Philadelphia Invitational Portfolio, Philadelphia Print Collective
Muralist Volunteer for The Village of Arts and Humanities, Philadelphia PA
EXHIBITIONS CURATED
2008
Art of the Invisibles, NONGRATA: Estonian performance art, PIFAS Philadelphia PA
2006
The Experimental People, D.Mocean, Nathan Whipple, Bunny Brains, and Mutation Collapse, Space 1026
2005
320×200:: DA SHOW, Cory Arcangel, Joe Beukman, Joseph Bonn, and Paul B. Davis:: Beige Programming Ensemble, Space 1026
From the Ground-Up, Space 1026
(curated from the online project by, www.learningtoloveyoumore.com, created by Harrell Fletcher and Miranda July)
Paper Rad: Mixed Tape Clubhouse
Be Kind Be Cause, a solo exhibition by Luke Ramsey
2004
Corporacist, a solo exhibition by Albo Jeavons
Paradise, A solo exhibition by Lily Frisco
New Money, a meta-history of the 20th century, solo exhibition by Josh Kline
2003
Baby Girl Put It On Me, a tattoo show showcasing The baby Girl Tattoo Project by Sherri Wood
THE SEPTA LETTERS
The Septa LettersIn 2003 Space 1026 artist Liz Rywelski began writing notes and letters to her fellow Septa subway passengers. The Septa Letters is the culmination of Rywelski's correspondence-a detailed collection of notes, emails and love letters she acquired and inspired along the way.
Below is the introduction to the book. It is an actual account of the event that first inspired the letters:::::
****************
Waiting for the Market bound el-train at about 7:15 pm on a night in late December, I was running about ninety minutes late to the opening reception of a group show I had work in. The Frankford bound train pulls up and away as I watch a cute boy in a yellow puffer jacket and headphones bop along towards the overpass singing something terribly sweet like R&B at the top of his lungs.
(If I were a boy that would be me), I say to myself. I watch him curiously, smile, and say, "Hi.", as he passes through the turnstile and off the platform. It took him a few seconds to recognize I had said something to him. He looks back,"Hi", I say again.
"Come closer, I can't hear you." he says.
"Why don't you turn down your headphones so you can hear me,"
Then, so animated, he whips out his TransPass, swipes his card, walks over to me on the platform, and very sweetly asks if I like music.
"Yes, I like music."
He said, "No, Musiq, the artist."
"Oh.. Yeah. Yes, I do." I said,
He doesn't look like el-trade. He is beautiful. With crystal-sea eyes and fresh skin; he is clean looking. I ask him where he's from. "I was born in France, an orphan, adopted to the states at 12, left my adopted family at 15 and have been living on my own, supporting myself since I was 15. I work down town and go to band practice everyday. I love Musiq. Music is my life. You?"
"I am from Philadelphia."
He takes out his phone and asks for my number. I can see my train coming around the York/Dauphin bend, so I start reciting my digits very slowly hoping I wouldn't be able to finish by the time my train gets here… 2 … 6 … 7 … he kisses me! This kid takes my face and kisses off all of my lipgloss, and keeps kissing me until the train doors open.
He is a light, I am a prism on the Dark Side of the Moon album cover. I was once the only person I knew who did things so passionately. I rush off and just make it onto the train before the doors close; floating and butterflies inside of me. He was so magical in this moment. It is with what the letters began.
~
Since this night I've found two more boyfriends on the el-train. The first was at 11th street station. He wore all black with his hood up. He sat two seats behind me. I watched his reflection in the Plexiglas in front of us. We made eye contact in the reflection and I watched as he took down his hood to reveal his chin length straight blonde hair. As we rose from the tunnel to the elevated Spring Garden stop the afternoon light connected with his plush face. He was perfect and had sweet lips and looked as though he might be from Denmark. I wrote him a letter on a flyer I had in my bag. It read:
Your face is perfect.
I like you.
-Liz
That flyer had my email address on it. I handed it to him as I got off at Berks. He wrote me a few days later.
From : Mgr–@aol.com
Date: Thu, 15 Jan 2004 23:49:13 EST
Subject:to ??liz?? from the el STOP(BERKS I THINK) : )
To: liz@space1026.com
Dear Liz:
There is so much I want to ask you I don'Äôt know where to begin but um 'Ķ as you can see Im thinking about you. I mean you give me this poast card thing (looks like your work place) and then you were gone and you left me wit a little note. I was wondering if you could e-mail me back at this e-mail or another one witch is mgr–@netzero.net or it might be netscape.net. These both are my friends emails cuz I don'Äôt have one but yea please if you could Liz or I think it'Äôs Elizabeth Rywelski but not to sure but if you tell me your name in full but for now my name is Alex! Alex wut? You'Äôll find out if I hear from you.
With only wonders,
Alex
A few days later he wrote again…
**************************************
introduction
The SEPTA Letters , inspired a short film created by Ted Passon .
For a complete copy of The SEPTA Letters published by Free News Projects follow this link:: The Septa Letters, limited edition of 500
48pgs4.25 x 12Limited edition of 500
Drawing
Scroll down!
"BURSTS", IN COLLABORATION WITH LUKE RAMSEY

MIAMI PORTRAIT SERIES

TWO PRINTS FROM "FACIAL SERIES"

DRAWINGS FOR RESTAURANT CONCEPT, "SIXTY DIXTY MOTOR CROSS".SHOOT YOUR OWN MEAT FREE MEAT FAMILY PLACE
Painting
Selections from 8ate6six photo suite
Scroll down!
MileMarkers
Below are selections from photo suite
MILE MARKERS
Scroll down!
Color Prints on-sale, $35 each,
$90 for three
$180 framed set
3.5″x5″, edition of 10
Identity Performances
"…developed a formula for acting out life as a series of roles. That is by saying to herself in the morning while brushing her blonde hair, 'Today I want to become this or that person', and than, preceding to be that person."
~ Anais Nin
BELOW ARE IMAGES FROM VARIOUS PERFORMACES

SRI SLAVA: THE WATER RITUAL, LONGWOOD GARDENS 2006

VARIOUS PERFORMANCES: (from right to left) TOP TEN, Bird Movie 2006; RABBIT LADY, untitled 2004; BEACH SCENE, untitled 2003; BRITNEY VOICE OVER, Sri Slava 2006

BEACH SCENE, untitled 2003

SRI SLAVA, 2007

BONNIE SHOWCASE, The World Cafe Live, 2006

BONNIE SHOWCASE, SHOWCASE FAMILY CHRISTMAS, The Society Hill Playhouse, 2007

2007
The Giveaway
The Giveaway
SCROLL DOWN TO VIEW
A colaboration between Josh O.S, and Liz Rywelski.
Shopping is a defining characteristic of modern culture; it is a way for people to express themselves as individuals and define distinctions from peers, and members of other classes.
The Giveaway is an ongoing project whose aim is to draw attention to the role of shopping in our society, the social and economic machinery which lie behind it, and subcultures cultivated by it. Just as automobile companies continually release new models and constantly update their product lines, The Giveaway will also release a range of products in a series of successive campaigns. These products will not be for sale. They will be left in public as a gratuitous gesture. Beautiful luxury products that you cannot buy, which do not form a direct part of any corporate marketing campaign, are offered for the taking. More importantly, these objects, and abstractions of principles in advertising, form the basis of campaigns, which advertise our ideals.
The first of these campaigns, is for the statement, "You Can Have Something Nice Too." Instead of using the tools of advertising, (print ads, commercials, slogans, etc.) to sell products, we are using objects and products to sell ideas and statements. Turning these hollow objects, which symbolize waste, dressing them up as new products of desire, to give away in a gratuitous gesture.
The first suite in our series, The Giveaway, was installed on the sidewalks of Center City Philadelphia in September 2002. The installation was photo and video documented. Six carts were installed, some were taken away after 1-2 days, the longest lasted 2 weeks on 16th and Walnut Street. We are currently preparing our next installation in select parts of Manhattan.
Text Messages
TEXT MESSAGES, 2003-2004,Interactive Digital Exchange using cellular phone technology
M GOT HIS NAME THE SAME WAY EVERYONE ELSE IN MY NOKIA 2600 GOT THEIR NAME; RANDOMLY. IN AUGUST OF 2003, I BEGAN TEXT MESSAGES BY APPROACHING STRANGERS IN BARS, ON THE STREET, COFFEE SHOPS, PARTIES, ASKING FOR CELL PHONE NUMBERS OF OTHER PEOPLE IN THEIR PHONES. THESE NUMBERS WERE ASSIGNED RANDOM LETTERS AND SAVED AS A CONTACT IN MY CELL PHONE. ROUGHLY ONCE A WEEK FOR ONE YEAR I SENT SHORT TEXT MESSAGES TO THESE COLLECTED CONTACTS, THE RECIPIENT WAS ANYWHERE, I DOCUMENTED EVERY REPLY AND RESPONDED TO NONE. THE REPLIES ASSIGNED ME MULTIPLE SUSPECTED IDENTITIES, A CRUSHING CO-WORKER, A SPITEFUL EX, A WRONG NUMBER, OR A POETIC FAMILIAR EMBRACING ANONYMOUS DIALOGUE. M WAS MY FAVORITE, IM NOT SURE WHO M THOUGHT I WAS BUT M WROTE ME OFTEN AND M'S REPLIES KEPT ME COMPANY. ABOVE IS A RE-COLLECTION OF OUR EXCHANGE AS SAVED ON MY NOKIA 2600.
the images above are a small segment of a larger collection
TM W M poster
20″x36″
(see thumbnail below)
on sale for $60, plus shipping.
Paypal only
Contact: Liz.Rywelski@gmail.com
THE RED ROOM
we were at a party at THE SOUTH PHILADELPHIA ATHEN√ɂĆUM , an old wrestling practice space in South Philly and this Red Room was there, USAISAMONSTER was playing in the next room over.I invited one Person at a time to come into The Red Room. I was nude, a nude photographer. I told Person to walk in-front of the camera quickly, I shot two pix of Person. I asked Person to come behind the camera with me to look at the pix I shot while nude. together we studied Persons clothed gesture on the digital camera screen. I told Person, "I want to be you, in that position, in those clothes, right now." so Person gave me clothes, right there. we became completly naked together. I studied Persons becoming naked movements as I put on Persons underwear, shoes, socks and jewlery. as i got dressed Person became the nude photographer and directed me into taking the same position as the one captured on digital camera. I tried really hard to get into it, to get it, to be Person. thinking about how naked Person might feel in clothed Persons body.do you know about Being in a room with someone you don't know very well, you just got unclothed with them, and now this Person is telling you what to do, how to feel, and yelling it over really loud but really good music? .
American Portrait Series
LINK TO IMAGES OF PORTRAITS SERIES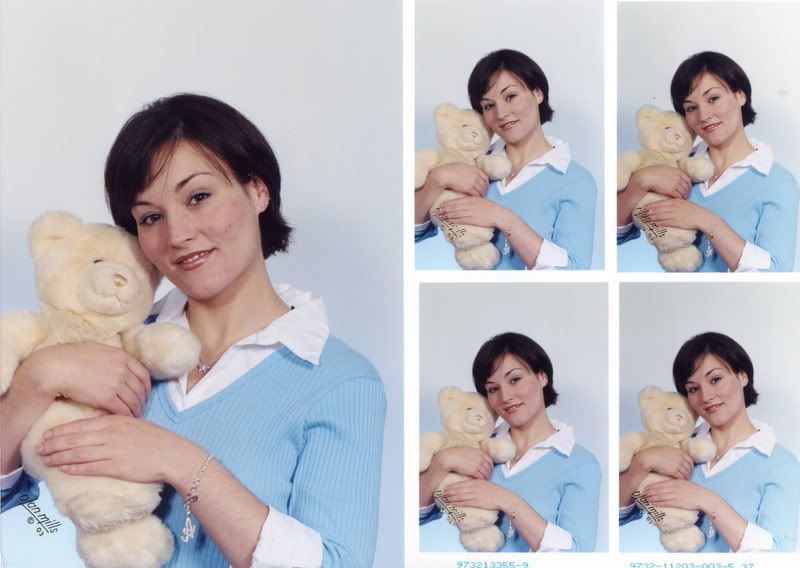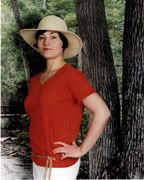 AMERICAN PORTRAITS
In these portraits,Philadelphia based artist, Liz Rywelski, visits Kmart stores, creates a temporary identity and then asks for the assistance of the store's employees in having her portrait taken.
On one trip she is a recent college graduate, hoping to take pictures to send to her family. On another trip, she is the fiance of a soldier stationed in Iraq, and wants to send her beau a portrait. She introduces herself to some of the employees as a customer in need of assistance, creative assistance, and then allows herself to become a canvas for their creativity and their sense of style. She asks them to choose clothes for her, makeup, accessories, and then in the in-store photo studio, staffed by an untrained photographer, she allows them to select the best backdrop, props and poses.
Rywelskis project is based on her role as facilitator as opposed to singular creator. However, instead of collaborating with a singular artist-genius, Rywelski collaborates with the employees of Kmart, working individuals whose low-wage employment at a large retailer has been expurgated of most substantive creativity. She allows these employees to transform their role as wage-laborers into creators – working with them in the store, they become Rywelski's master printers.
LINKS TO EXHIBITION REVIEWS BELOW
New York Times 8.19.05
Joy Found In Williamsburg : Review by Brent Burket
Shiny Happy People : Review by Robin Rice
Art of Mediocrity