MYLES Smutney-Hyde
The Real Deal.
For the dirty details of my retarded antics, to check out my artwork, or just lurk anything awesome I may do, visit MomTried.com.
Lurk away.
I told you I was Trouble.
Please $end help.
La Muerte Del Amantes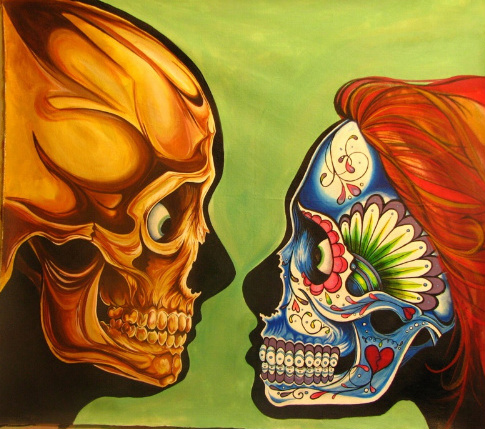 4x6ft painting on display at Made to Order. 817 N 2nd Street. Philadelphia.
Tini Martini Mural
Inspired, of course, by Die Die My Darling, I made this stencil for a huge mural I did covering the entire basement of Tini Martini in Chicago. I later used, and revamped this for old my bedroom.
Bedroom Mural
I did this in my old Kenzington bedroom to brighten my days. I guess it worked.The picture quality is terrible, check back soon.Its better on my blog.oh my blog
Trouble Industries
My friend Tina at Topstitch Boutique here in Philly made a card to announce the new summer arrivals of the tees I printed for the line I created with Jonny Sorber. Its called Trouble Industries, named after my cat.
Afficial Window
I painted this mural from the inside of Afficial over the summer. Its on 5th near south and the inside is made to look like a pool. Its a really awesome store, and this was my first piece on glass, I usually install in window fronts, not paint on em.
Medusa
I wheatpasted this at Tattoed Mom's on South st. Its roughly 9ft tall by 6ft wide. My friend Bobby did most of the physical application cause their insurance doesn't cover customers. I pushed a broom up from the staircase to help the best I could.
Solo Show Flyer
I painted this for my opening at Conspiracy Showrrom in June. The mural I did for the store is still up. Check it!