My Name is URL / My Name is IRL – Jesse Hulcher and Jerstin Crosby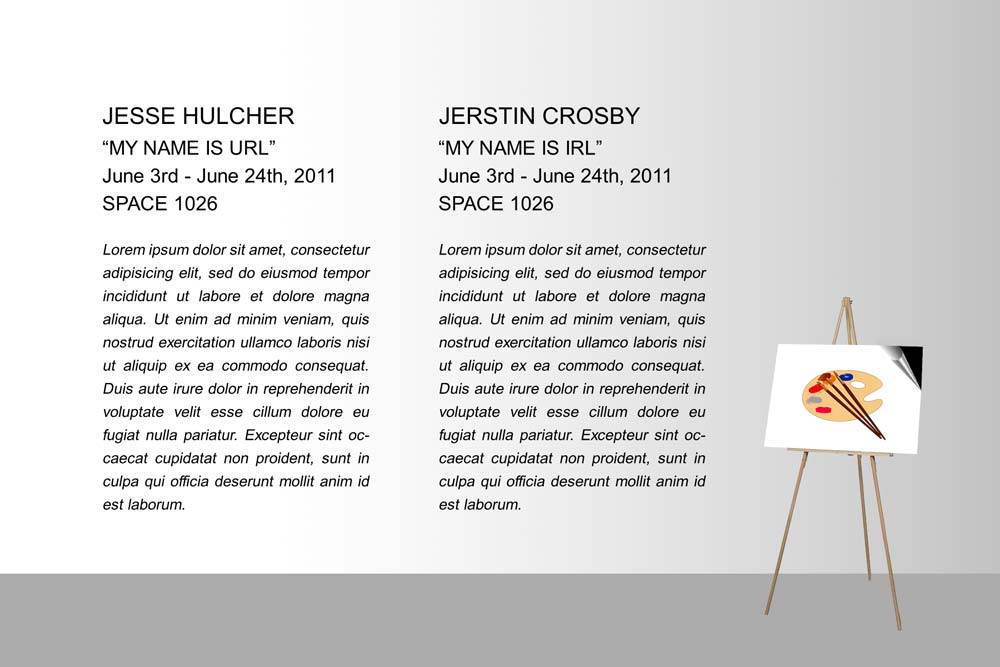 My Name is URL
Jesse Hulcher
My Name is IRL
Jerstin Crosby
June 3rd – June 24th, 2011
Opening Reception: Friday, June 3rd, 7 – 10 pm

SPACE 1026
1026 Arch St. 2nd Floor
Philadelphia, PA 19107
For the June exhibition at Space 1026, Jesse Hulcher and Jerstin Crosby will present a partly collaborative effort under the guise of two simultaneous solo shows, "My Name Is URL" and "My Name Is IRL". As the dueling titles suggest, the multimedia works included in this exhibit will attempt to define the new media outsider art aesthetic.
Early on, like in the mid-2000's, Jerstin Crosby tried starting a new webpage… but failed. Later he tried again and was finally permitted to create a myspace-page, but couldn't make enough friends to continue. Jesse Hulcher was perfectly happy with the websites that he found online, but was later blacklisted from the internet forever after a casual mouth-off sesh in an America Online chat-room. After that, all he knew of the online blog-o-sphere was through hearsay. But then he realized he just needed to register a new Internet name, and the problem was solved forever, or at least for now. (Keeping fingers crossed). He let Jerstin use his password, and this exhibit was born.
At Space 1026, we will attempt to answer the new-age-old question, "Is the internet real?" And in addition to this we'll ask some other burning questions such as, "How can we participate in this World Wild West?," and "If I know someone on the Internet, does that mean I get to say 'Hi' if I see them IRL? Or is that stalking?" (Not sure) With that in mind, don't miss out on this one-of-a-kind, grand slam exhibition that takes the cake, and eats it too. Always the exception to the rule, Jerstin and Jesse will prove that in fact you can judge a book by it's cover, (or in this case a postcard), because if you've seen the press image, well that's a pretty good representation of the show, and course, feel free to take that to heart.