Jungleland
Matt Leines, William Buzzell, Alex Lukas, Joe Buzzell
Jungleland, an exhibition of paintings, drawings, sculpture and site-specific installations by artists Matt Leines, William Buzzell, Alex Lukas and Joe Buzzell. The four friends use themes from the seminal Bruce Springsteen song Jungleland to present their unique artistic visions. Psychedelic imagery, post apocalyptic landscapes, vignettes of teenage rebellion, and scenes of mythical gods come together to create a one of a kind world that can only be experienced down In Jungleland.
The show opens April 6th and runs through April 27th, the opening party is Friday, April 6th.
Space 1026 is excited to host these four artists in Philadelphia.
With his crisp, meticulous pen and ink and lush, multilayered watercolor, Matt Leines initiates us into the geometry of the future. Through a secret society of humanoid creatures, anthropomorphized nature and mythological adornmentLeines reveals a depth of feeling in his at times confrontational drawings.
Using house paint & shoe dye on plastic tarps, found wood & scrap metal,William Buzzells work continues his exploration into the themes ofpatriotism, race, heritage, class and the shaping of identity in the modernworld. William is a member of the Philadelphia art collective, Space 1026.www.williambuzzell.com
Alex Lukas drawings and sculptures depict destruction, desolation and thehypnotic power of smoke in the wake of an un-specified disaster.www.alexlukas.com
Joe Buzzell's artwork loiters outside an Exxon gasstation at the cross section of Sacred Geometry and Fake Puke, smokingcigarettes and eating shitty hot dogs.
Lori Hill from CityPaper wrote this about JunglelandIn the wilds of Space 1026 this month lurk lonely-hearted lovers, cops and a Magic Rat. In this "Jungleland," and in the classic song by The Boss, four friends find inspiration in spades. "The song 'Jungleland' really captures an interesting time and place, but it also has elements of tragedy and trashy teenage culture which the four of us thought would be amazing to delve into further," says artist William Buzzell. The four interpret the song in drastically different ways and with drastically different approaches: The blackest of industrial smoke looms in Alex Lukas' precise drawings of infrastructure and buildings as if seen from the relative safety of the highway. In stark contrast, Joe Buzzell's work, in electric pinks, blues and yellows, looks like a great struggle between video game architecture and comic book characters, with a little bit of pop art for good measure. His cubes and pixels tussle with droopy-eyed ghosts and wailing heroes in what resembles an arcade game from 1986. Like a postmodern Henri Rousseau, Matt Leines paints jungle animals, tropical flowers and skeletons with a primitive creepiness I'd rather not talk about anymore lest I terrify myself.It's William Buzzell whose work appears to most literally interpret Springsteen's storytelling, and with great effect. He turns the stomping ground of the song into a loud, crowded landscape of signage and humanity. Turnpike signs, smokestacks, highway equipment, wrecking balls, water towers and landfills are the playground for Jersey girls, rock bands, townies and, of course, the Magic Rat. "That piece [Jungleland, Gangland, Copland] is meant to capture elements of driving down the New Jersey Turnpike or Garden State Parkway, which if you've ever driven down, is essentially a barrage of signs and logos," says Buzzell. As for these friends getting along on the job? "[Alex, Matt and I] flew out to Stockholm for a show last fall and we got into a massive five-day fight about who got which wall of the gallery. The show came out well but we definitely re-enforced every stereotype about loud, aggressive, selfish Americans to our Swedish hosts," says Buzzell, adding, "The addition of my little brother hasn't made 'Jungleland' any less difficult to execute."Opening Fri., April 6, through April 27, 1026 Arch St., 215-574-7630.
Close up of one of Alex Lukas's burning buildings
Matt Leines painting on the wall and a detail of his handpainted tree
Detail of New York in William Buzzell's mid-atlantic cities series including Newark, Philadelphia, Baltimore, and D.C.
William Buzzell's diagram of the NJ Turnpike, Garden State Parkway, and Atlantic City Expressway- SOLD
A weaving and a drawing by Joe Buzzell
Where Will and Joe's walls meet
Emergency Call Box- Press the red button and a cop car with flashing lights appears..sort of.
NJ State Trooper Car with flashing lights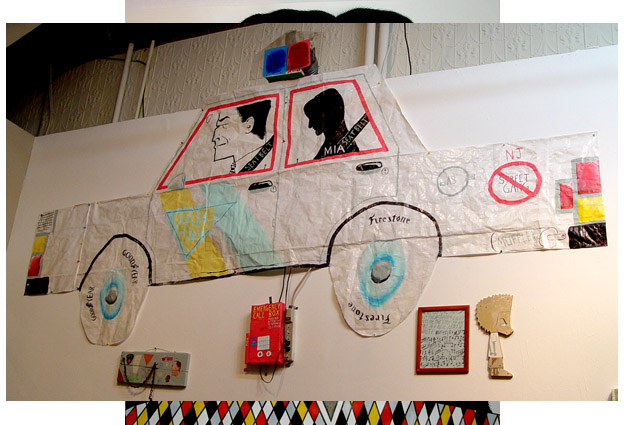 Shaman Head-Matt Leines-$4,500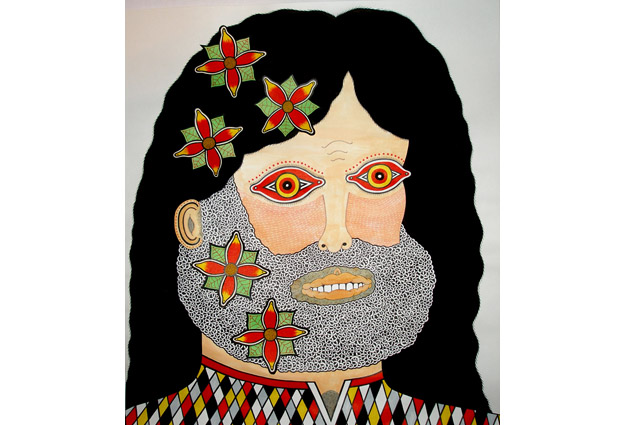 Tiger in the Jungle-Matt Leines-$4,000-SOLD
Night Landing-Matt Leines-$4,000
Invading the Village- Matt Leines- $6,500-SOLD

see more at www.alexlukas.com
more at www.alexlukas.com
Some of Joe Buzzell's drawings

black and gold Jungleland posters

Will painting a piece of wood
Matt Leines painting on the wall
Fang Island performing at opening
William Buzzell's wall

Alex Lukas's wall
Joe Buzzell's wall
Matt Leines's wall
Postcard back
Postcard image-Joseph Buzzell

Death Messenger-Matt Leines-Image used on postcard-$3,500
Factory on Fire #8-Image used on postcard-Alex Lukas-$900
Postcard image-William Buzzell