12.08

2006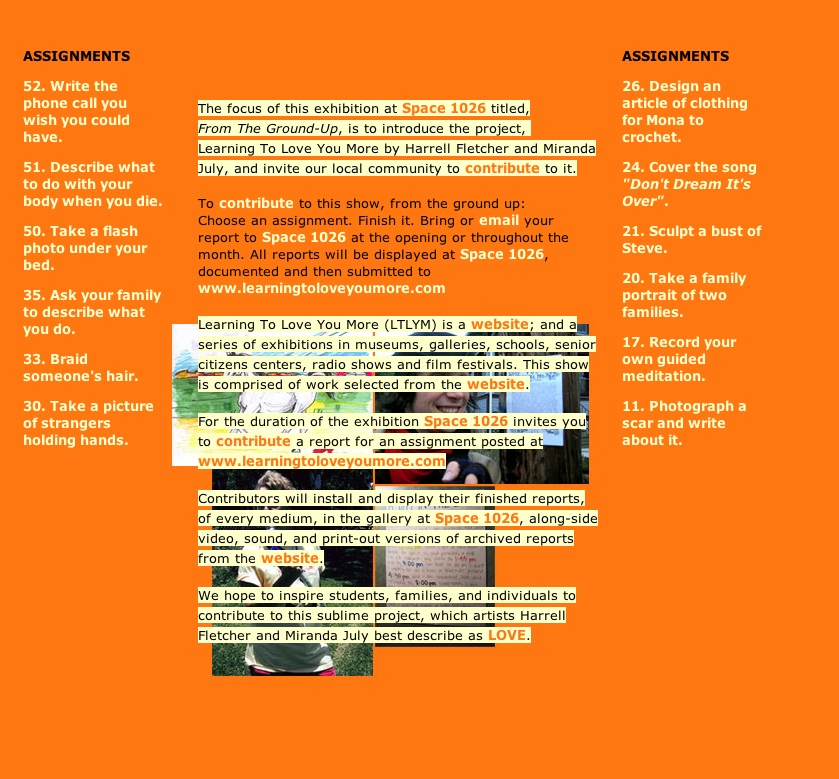 The focus of this exhibition at Space 1026 titled,
From The Ground-Up, is to introduce the project,
Learning To Love You More by Harrell Fletcher and Miranda July, and invite our local community to contribute to it.
To contribute to this show, from the ground up:
Choose an assignment. Finish it. Bring or email your report to Space 1026 at the opening or throughout the month. All reports will be displayed at Space 1026, documented and then submitted to www.learningtoloveyoumore.com
Learning To Love You More (LTLYM) is a website; and a series of exhibitions in museums, galleries, schools, senior citizens centers, radio shows and film festivals. This show is comprised of work selected from the website.
For the duration of the exhibition Space 1026 invites you to contribute a report for an assignment posted at www.learningtoloveyoumore.com
Contributors will install and display their finished reports, of every medium, in the gallery at Space 1026, along-side video, sound, and print-out versions of archived reports from the website.
We hope to inspire students, families, and individuals to contribute to this sublime project, which artists Harrell Fletcher and Miranda July best describe as LOVE.
ASSIGNMENTS
52. Write the phone call you wish you could have.
51. Describe what to do with your body when you die.
50. Take a flash photo under your bed.
35. Ask your family to describe what you do.
30. Take a picture of strangers holding hands.
26. Design an article of clothing for Mona to crochet.
24. Cover the song "Don't Dream It's Over".
20. Take a family portrait of two families.
17. Record your own guided meditation.