06.21

2008
Before you read the text below, let me real quick tell you what these kids from LA have done. In the matter of 3 weeks (minus a year of planning) , and a credit card, they bought a 35 " school bus from a Mormon family in Sacramento, converted it over to run on the taint juice of the food industry, aka used veggie oil. (Big shout out to Ming over at Kingdom of Vegetarians for not charging us the $20 for the 150 gallons of gold he hooked us up with) They then drove the bus 3000 miles from LA to Philly , on the way having a minor black widow infestation in Tennessee on the bus, picked up a 15 foot uHaul to pull behind the bus, drove to Jersey City, picked up the bands and then drove down to Baltimore to start the tour with our main man Cullen down there. Wow… I dont mean to get too preachy , but I have to say Sean , the bands-comedians-artists and his crew from the west are truly doing this for all of the right reasons. We at 1026 are super proud to be involved.
i almost forgot, Delilah from 1026 is on the bus as we speak somewhere outside Atlanta.
F*%! Yeah Fest and Space 1026 are proud to announce the start of:
F YEAH TOUR 08! A mix of music, stand up comedy & art
28 shows in 28 days. June 17th – July 13th
Featuring:Matt & Kim, Circle Jerks, Dillinger Four, The Death Set, Monotonix, Dan Deacon, Paint it Black, Team Robespierre, Brother Reade, Crystal Antlers, Brutal Knights, Totally Michael, Mannequin Men & more!
Comedians Reggie Watts, Nick Flanagan and Matt Braunger
Art Installations provided by Space1026
Limited edition artist poster designed and printed by Alex Lukas at Space 1026 for the 2008 F!!! Yeah Summer Tour. Click here to purchase a tour poster.
Click here for more information about the tour!
F*%! Yeah Fest is an annual music/comedy/art festival held in Los Angeles at the end of each summer curated by 22 year old Sean Carlson and Keith Morris from The Circle Jerks & Black Flag. This year will be the fifth installment and it will take place in an outdoor setting in downtown LA on August 30th & 31st and will now be known as F Yeah Fest. It's been Carlson's goal for some time now to take the festival on the road, bringing the spirit of the festival to other cities, and now for the first time that dream has become a reality with the first annual F YEAH TOUR '08, featuring many bands and comedians that have become staples / favorites at the festival. The Fest will be touring in a 44 passenger '92 Bluebird Bus. The only goal for this tour is to have fun. 28 cities , 28 days. Check here for dates, locations, and bands.
F YEAH TOUR 08!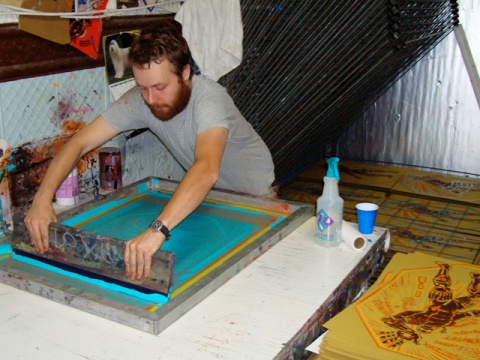 Alex Lukas Printing
Bus infront of my house.
I suggested other wise, but they drove the bus plus hitch down my small ass street and parked infront of my house. Took an hour and a half, shutting down bainbridge and 4th for 45 minutes and someones bumper to get it off my street. That someone i later found out was my dentists so super sorry Mia about your bumper, then I discovered a great dentist in Tijuana that is famous for dental tourism in Mexico. Thanks for being so cool about it. xoxo
Tour Poster 2