Art Auction 2020 Info
Friday, December 11th
8:00 PM 9:00 PM

Tune in for the final night of auction week with Andrew Jeffrey Wright!
Three ways to bid:
Instagram:
https://www.instagram.com/space1026/
Zoom:
https://us02web.zoom.us/j/83256255599
Twitch:
https://m.twitch.tv/space1026twitch/profile
Tour of the Space
Friday, December 4th
6:00 PM 6:30 PM

See inside the new space with Roman and Jackie as they give a live tour on Instagram!
Printmaking with a Homemade Gelatin Plate
Friday, December 4th
6:30 PM 7:15 PM

In this demo Miriam Singer will introduce a fun way to mono-print in your kitchen without a press. First discussing how she made a homemade Gelatin printing plate, showing how to create some simple stencils, mixing three colors, rolling ink, and printing monoprints in this 45 min demo. Question and answers will be included as well as a supply list so you can also make monoprints at home!

Limited to 20 people
Sign up here to get the Zoom link in your inbox.
BYO T-shirt
Saturday, December 5th
10:00 AM 2:00 PM
Drop off / Pick Up Printing Service
Saturday December 5th between 10AM – 2PM, stop back to get your freshly printed Space 1026 shirt!
844 North Broad Street Philadelphia PA 19130
More info about pick up and shirt designs coming soon :]
From Scan to Print: Intro to Photoshop
Sunday, December 6th
1:00 PM 3:00 PM

Join textile designer Jacqueline Quinn and learn how to scan your paintings and manipulate in Photoshop. Basics tools will be covered as well as ways to fix mistakes, alter color and more as covered in Lesson 4 of her online class Botanical Watercolor. Plus a few ways to separate colors for screen printing.
Students will be automatically entered to win a Winsor & Newton Cotman Watercolor Compact Set.
Limited to 10 people
Sign up here to receive the Zoom link in your inbox.
Noise Night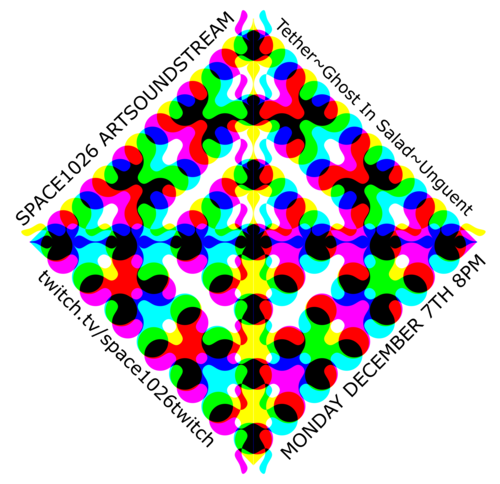 Monday, December 7th
8:00 PM – 10:00 PM
An evening of live experimental music and performance from three long-standing Philadelphia based underground artists.
Tether
Ghost In Salad
Unguen
Live Painting
Tuesday, December 8th
7:30 PM – 8:30 PM
Hey yous — perhaps your eyes are looking a little gray from all that drab professional zooming . Forever pajama-bottomed, you are feeling bottomed-out. You are in need of a body/booty/mind/heart cleanse, yes? Well — the Turkish baths may be closed, but the art salon is open. Aim a bidet at those sodden spirits, friends, as ye rejoice in some good ol' public access painting. Artist Eileen Echikson is inviting you to her humble, colorful studio, where she will complete one large painting — L-I-V-E, baby. Watch Eileen slather that sauce (house paint) as she creates another schmear-on-plywood beauty to accompany her collection of towering works. This edibles-sponsored artwork will be supplemented with a smattering of musics, inaudible mumbles, and a takeout break or two. Feel free to play your own cozy tunes, drop some poetry in the Twitch comments, and enjoy one night of blissful, peaceful, *chef's kiss* programming. Hope to see yous there 🦋
A Walk Along the Ridge Road
Wednesday, December 9th
6:30 PM 7:30 PM
Join June Armstrong for a virtual walk from 1026 Arch Street to 844 North Broad, discussing the history of the neighborhoods and buildings along the way! Stick around for Night 3 of our Art Auction, your chance to support Space 1026 and our little home for art-making in the city.
MOMMIE MIST
December 10th
8:00 PM – 10 PM

Covid lock down is wet and sexi, for all of us. Philadelphia friend, Rose Luardo just had a Scorpio baby and she's leading a workshop to explore the sacred spaces of mothering: placenta recipes, fitness with baby, nursing bras, nursing thongs, nursing stilettos, lactation dribblings, mommy and me activities and so much more. Come hungry, leave happy – don't eat your baby.