09.26

2007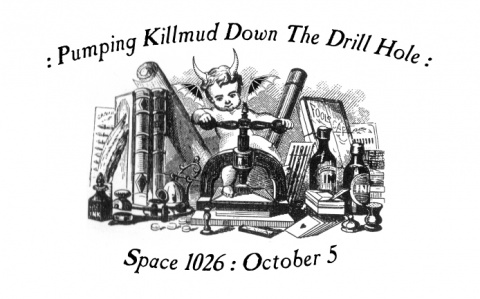 Next week the collaborative print show, Pumping Killmud Down the Drill Pipe will open in the galleries, featuring several different makes and models of print collaboration with projects by local and national artists.
Cannonball Press and Howling Print Studios are brewing up a highly caffeinated, giant relief print mash up, served strong and black, of course.
And in the opposite corner, facing off against the stark black world of Cannonball and Howling Print will be a dynamic collaborative print. Lucky gallery visitors will be treated to impromptu ink slinging sessions in October by Hasiuk using screenprint printing and his forearms of steel.
Next, a Broadside Battle will be raging on the big wall in the gallery!
And, Drive By Press will be cranking out the prints, in the gutter outside Space 1026 on Friday night, and Saturday, too. Drive By Press is a traveling print shop housed in the back of a pickup truck based in Wisconsin.
Don't miss the action!