03.10

2009
Brad Thomas runs the Van Every/ Smith galleries down there at Davidson College in North Carolina… This time around he has brought Chris Johanson to Davidson and they are having an opening this Thursday, March 12 at 7pm. One part of this show that sounds extra-special is a collaboration between Chris and members of the Art Works 945 program at Urban Ministries in Charlotte.
Also coming up in that neck of the woods, on Sunday, the 15th AJW, Sweatheart, Narwhals of Sound, Coma League and Radio Taiwan are playing at the Saturday Skateboards warehouse… and it's only $5.
So if you are South of the Mason Dixon line. Go to Davidson and Charlotte this weekend… and If you are in Philly and plan on going, hook me up with a ride!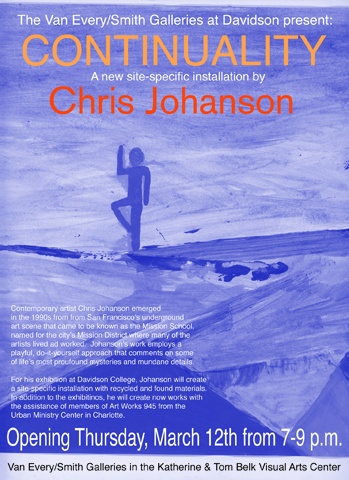 Flier.