Archive for the 'Art Auction' Category
10.29

2008
December 5th from 6 to 9pm
Stop by the gallery and preview art auction items. Visitors in the gallery and online can place bids on our eBay auction that will run throughout the following week.
AUCTION TIME: Live Call In Show from 7-9pm
Mary Beth Flannery and Eduardo Luardo come from a retail and performance art background. They are longtime fans of home shopping as they were both extremely overweight for several years and couch-ridden. They will be hosting a very special hour of Space1026 Shop From Home, "AUCTION TIME!" this December 5, 2008.
They started the show, "Auction Time" after a stint on The Antique Road Show where they were humiliated after bringing what they though was an authentic alicorn (unicorn horn).
They live and work in Narberth, Pennsylvania with their 3 cats, Chairman Meow, Col. Otis J. Whiskerson and Lord Alfred Powerbottom and their many collectible dolls.
10.13

2008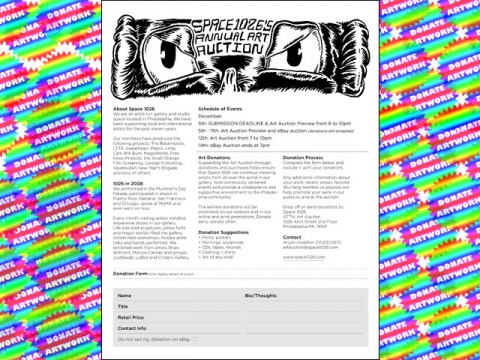 Space 1026 is preparing our Annual Art Auction for 2008. We will have a preview night for First Friday in December, a week long eBay auction and an incredible selection of art donations for you to bid on for the Live Auction on December 12th.
* Full 1026 Art Auction Details *
Supporting the Art Auction through donations and purchases helps ensure that Space 1026 can continue showing artists from all over the world in our gallery, hold community centered events and provide a collaborative and supportive environment to the Philadelphia community.