djhaveboard.com
haveboard.com
Portfolio Site
All Projects
News Posts
07.16

2008
Local heroes make it big! The Print Liberation crew has put out a step-by-step guide on silk screening and we have it in stock.
Buy it today-Start your own crappy t-shirt company tomorrow! All the dumb questions-Answered!
Get it while we got it!
JINXED
620 4TH STREET
PHILADELPHIA
215-978-JINX
Lots of other books in, too. Get in here…
07.03

2008
Philadelphia and Chicago!!!
Hi! it's max and delilah helloring from Chicago. If you are in the windy city, come hang out with us at the Stan Mansion – 2408 N Kedzie -Chicago , IL or check the website at the empty bottle!
Thank you Danielle and Travis for coming out and making an awesome installation for the st. louis show. Danielle, I cant believe you let 28 stinky people sleep at the studio and im glad we were able to save your building from burning down…I almost forgot, Bill McRight!!!!!!!, congratz on getting engaged, on being one of Juxtapose's profiled artists this month, as well as doing a really amazing job with the hand drawn typography on the front and back covers of Swindle magazine. Your so modest i know you would never say shit about any of that and i can see you blushing now!
Ok, back to F!!! Yeah Business.Check out daily video postings of the tour at video thing dot com
Check out a short video i took in austin of Matt and Kim here
NEXT FRIDAY , the 11th
The tour will be in philadelphia at the starlight ballroom. Check out the lineup featuring Circle Jerks, Dillinger Four, Matt & Kim, Paint it Black, Monotonix & Team Robespierre… and a special performance by Cars Will Burn!!! Check out the r5 website here! for more information about the show.
Finally
I would also like to let people know about a lesser known band that we are on tour with who are truly inspirational. Crystal Antlers hails from Long Beach CA and are one the gnarliest grrrock bands i have heard in a long time. After 5 days with them, my slick hairless chest has begun to sprout a bit of manhood and i have them to thank. I have posted a partial mp3 of one of their songs here , the 6 song ep is not available online or digitally anywhere legally so support the band and buy their cdr's from their myspace page here!!!
Also, if you have never had the pleasure of seeing MONOTONIX! perform, please go to the philly show and engulf yourself in our tel aviv brothers energy. i promise you will not be disappointed. It has been a truly GG Allen – Charles Manson – transcendental experience for me to see their performances (minus the poop throwing and angry overdosing that comes with a GG Allen show).
and purchase your limited edition tour poster designed and printed by Space1026 very own Alex Lukas here!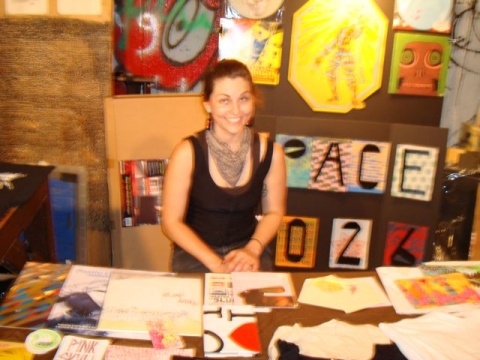 Delilah – Fort Worth
Delilah working the merch table at the 1912 Space. Super rad place. 1912 is a non – profit geared toward helping the Fort Worth Youth by having a place to have all ages events so the kids dont resort to catcing cats and dogs on fire for fun. awesome people, so much fun!
Austin – Bridge After Party
Austin – The Bridge
This is a blurry flick of the austin after party that was held on a bridge facing the train tracks and the city of austin. The party thrower brought out a generator with a PA and crystal antlers performed as well as other bands. There were alot of good looking – overly well dressed people there so i left to find some ugly – poorly dressed people downton. It made myself feel alot better about not shopping at american appearal.
Austin – Main Show
Austin – Main Show
this is another blurry flick from matt and kim playing in austin at the main show. kids love em!
06.26

2008
Come out and party to benefit Paine's Park!
Saturday, June 28 from 9pm to 1am in South Philadelphia at Urban Outfitters' private space in the Naval Yard. This space is beautiful, complete with old industrial memorabilia and koi ponds. Event features free food and beer, a professional skateboard demo set up by Nocturnal skateshop, art for show / sale, great performers, and a slew of other entertainment. For more information, including artists and performers and a map, click here: www.painesparkproject.org/painesworld/index.html
There will be free buses running loops specifically for the party, check the link above for the stops.
If you want to get tickets online, get there through the link above. If you want to buy in person ($2 cheaper), they are on sale at Urban Outfitters stores (University City & Walnut Street locations).
A lot of us have been working hard to get this event together, so come out and have some fun for a good cause!
06.21

2008
Before you read the text below, let me real quick tell you what these kids from LA have done. In the matter of 3 weeks (minus a year of planning) , and a credit card, they bought a 35 " school bus from a Mormon family in Sacramento, converted it over to run on the taint juice of the food industry, aka used veggie oil. (Big shout out to Ming over at Kingdom of Vegetarians for not charging us the $20 for the 150 gallons of gold he hooked us up with) They then drove the bus 3000 miles from LA to Philly , on the way having a minor black widow infestation in Tennessee on the bus, picked up a 15 foot uHaul to pull behind the bus, drove to Jersey City, picked up the bands and then drove down to Baltimore to start the tour with our main man Cullen down there. Wow… I dont mean to get too preachy , but I have to say Sean , the bands-comedians-artists and his crew from the west are truly doing this for all of the right reasons. We at 1026 are super proud to be involved.
i almost forgot, Delilah from 1026 is on the bus as we speak somewhere outside Atlanta.
F*%! Yeah Fest and Space 1026 are proud to announce the start of:
F YEAH TOUR 08! A mix of music, stand up comedy & art
28 shows in 28 days. June 17th – July 13th
Featuring:Matt & Kim, Circle Jerks, Dillinger Four, The Death Set, Monotonix, Dan Deacon, Paint it Black, Team Robespierre, Brother Reade, Crystal Antlers, Brutal Knights, Totally Michael, Mannequin Men & more!
Comedians Reggie Watts, Nick Flanagan and Matt Braunger
Art Installations provided by Space1026
Limited edition artist poster designed and printed by Alex Lukas at Space 1026 for the 2008 F!!! Yeah Summer Tour. Click here to purchase a tour poster.
Click here for more information about the tour!
F*%! Yeah Fest is an annual music/comedy/art festival held in Los Angeles at the end of each summer curated by 22 year old Sean Carlson and Keith Morris from The Circle Jerks & Black Flag. This year will be the fifth installment and it will take place in an outdoor setting in downtown LA on August 30th & 31st and will now be known as F Yeah Fest. It's been Carlson's goal for some time now to take the festival on the road, bringing the spirit of the festival to other cities, and now for the first time that dream has become a reality with the first annual F YEAH TOUR '08, featuring many bands and comedians that have become staples / favorites at the festival. The Fest will be touring in a 44 passenger '92 Bluebird Bus. The only goal for this tour is to have fun. 28 cities , 28 days. Check here for dates, locations, and bands.
F YEAH TOUR 08!
Alex Lukas Printing
Bus infront of my house.
I suggested other wise, but they drove the bus plus hitch down my small ass street and parked infront of my house. Took an hour and a half, shutting down bainbridge and 4th for 45 minutes and someones bumper to get it off my street. That someone i later found out was my dentists assistant so super sorry Mia about your bumper. Thanks for being so cool about it. xoxo
Tour Poster 2
06.13

2008
There are two art shows you should check out this weekend. Tonight, Mike Stein presents Double Dippin' at Benna's and Saturday, Exit presents Deck Heads. Follow the links for more info.
05.07

2008
Mike Stein is the main dude, art-wise, behind Traffic Skateboards. He also paints some pretty sweet paintings. He will be showing off his work This Friday from 6 to 10 at Exit Skate Shop in Fishtown.
02.05

2008
Check out these two write ups of Space 1026 Artists John Freeborn who talks with uwishunu.com about Big Kids \ Little Kids and William Buzzell who will be at Giant Robot from February 16 to March 12, 2008.
02.04

2008
Annette (One culture and the New Sensibility) stopped by White Noise on Friday, and will be writing something up on it in the near future, aka "I promise to review as soon as I can go back and take notes".
01.30

2008
Yes, Plastic little played at silk city not to long ago, and people blogged about it. Can you believe that?
01.30

2008
FOR IMMEDIATE RELEASE – Art Show at GRNY
William Buzzell at Giant Robot New York, February 16 – March 12, 2008
Reception: Saturday, 6:30 p.m. – 10:00 p.m.
Giant Robot Gallery
437 East 9th Street
Between 1st Ave. & Ave. A, in the East Village
New York, New York 10009
grny.net
(212) 674-GRNY
Giant Robot is proud to present Class Action, paintings and sculpture by Philadelphia-based artist William Buzzell.
Working almost entirely with found wood or metal and common latex house paint, Buzzell's pieces are characterized by a surface of intricate brushwork and often feature three-dimensional elements. William Buzzell dips into the mundane, the practical world and a deep well of popular culture, often using maps, logos, charts, text, and familiar cartoon characters or TV icons to fill every inch of his paintings. A native of Providence, RI, much of Buzzell's early work was installed on the streets of his hometown and New York under the alias Rotgut.
Buzzell is a current member of the Artist Studio/Gallery Space 1026 in Philadelphia. The artist has had major exhibitions in Los Angeles, San Jose, Sweden, and Canada. We are very pleased to offer his first solo show in New York.
A reception for William Buzzell will be held from 6:30 to 10:00 on Saturday, February 16. For more information about the artist, GRNY, or Giant Robot magazine, please contact GRNY.