04.13

2018
Stop by from noon until 5 pm!
03.31

2018

Nature Special
new and recent works by
Scott Porcelli and Ash Limés Castellana

Opening Reception on April 6, 2018 from 7pm – 10pm
On view through April 27
Space 1026 is pleased to present Nature Special, which brings together new and recent work by Scott Porcelli and Ash Limés Castellana. Both artists share a common interest in the outside world, specifically in the many wonders of water, as well as the life and land that exist around it. We are presented with the personal relationship between individual and nature, as both artists have developed their own communication with it.
With Porcelli's prints and paintings of water birds we catch a glimpse of the wonder and whimsy that seems to occupy his thoughts anytime he hears a birdsong. In Castellana's more restrained drawings and prints, we see the various patterns and forms that exist in the natural world, which are often overlooked while viewing the landscape as a whole. Castellana and Porcelli combined their worlds in a series of collaborative screen prints with hand drawn elements, which they created together at Second State Press, where they first met.
Limés Castellana's artistic practice seeks to promote a connection with ourselves and the natural world by encouraging focused attention on a limited landscape. When experiencing a natural expanse, she begins by reducing it into components. Forest, river, form, line, pattern. Looking at something so vast becomes more manageable when broken down into these parts, fading out the activity around it. In this series, she has reduced the landscape to emphasize water and how the solid mass of the land informs its surroundings.Through the process of drawing and printmaking she hopes to record these observations and provide a tool for reflection.
Porcelli's works are inspired by a love of birds and the Florida Everglades; a colorful backdrop rich in biodiversity. The Everglades are home to over 46 bird species from bald eagles to flamingos which is exciting for bird lovers, and cool. Nature hikes and long walks have nurtured his deep connection to the natural world, and countless daydreams along the way. This series depicts a playful narrative of birds within their hidden habitats. Through his work, Porcelli hopes to key the viewer in on the complex social systems, behaviors, and communities of our aviary friends, through humourous motifs, that provide insight to the connections between birds and their neighbors.
Ash Limés Castellana teaches screenprinting at Second State Press and children's art education at the Philadelphia Museum of Art. She has nurtured her printmaking skills with organizations such as The Print Center, The Fabric Workshop and Museum, The Women's Studio Workshop, Space 1026, and as a Textile Printer at Galbraith & Paul. She holds a BFA in Printmaking and Art History from Temple University. Certain rocks tend to make her smile.
Scott Porcelli is a printmaking instructor and product coordinator at the Center for Creative Works a studio for adults with intellectual disabilities. He is a former studio manager and a fob holder at Second State Press. Scott likes to party, but that really means he spends a lot of time listening to music and drawing in his room. Scott Porcelli holds an MFA in printmaking from Edinboro University of PA.
03.19

2018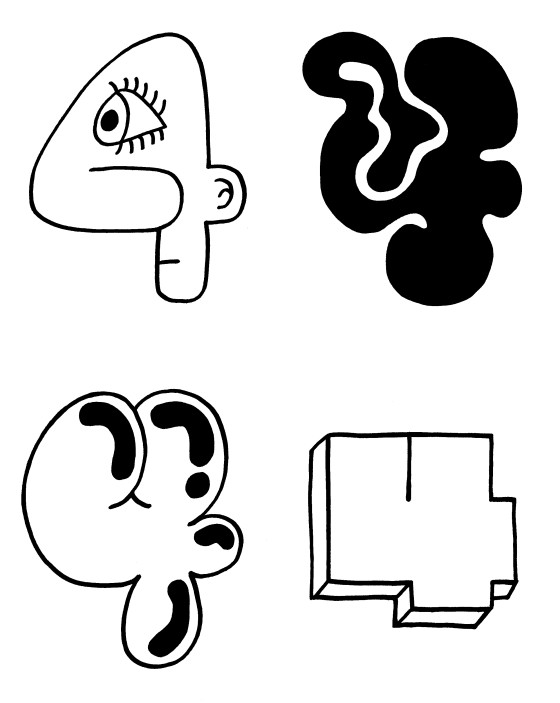 Andrew Jeffrey Wright collaborated with Pressure Club print studio and gallery. The results are on view in his solo show, Four of Everything.
Four of Everything –  March 16th – April 27th
Pressure Club, 711 W. Thompson St., Philadelphia
By appointment, contact through–> PRESSURE CLUB
03.01

2018


First Friday
March 2nd
5:30pm – 9:00pm

Jaither West's paintings engage with both homage and reportage. As an avid breakdancer, he pays tribute to the history of hip-hop for inspiration, painting the personalities of hip-hop's golden era. West also paints from current events and daily life, including political campaigns and his daily commute. His work has always explored the details of the activity and the people who inhabit or pass through the city of Philadelphia. He paints to record memories and draw attention to important but often marginalized moments in history. West's work is a way for him to experience history, communicate his passions and honor those whom he respects. Within the past year he has begun painting on a larger more immersive scale. This scale allows him to condense and include more information creating a richer history and creates an environment for the viewer to physically enter. Whether about breakdancing or historical figures, the paintings give him a platform to share the things he is passionate about with a larger audience.

West continues to explore the history of hip-hop and breakdancing through his installation and mural at Space 1026. Each piece of information recorded in his paintings takes him down a new path of discovery and allows his stream of consciousness to explore whatever new topics open up to him.

Jaither West (b. 1988) is a self-taught painter living and working in Philadelphia. His work focuses on his everyday life—from famous personalities like Michael Jackson and John F. Kennedy to the individuals he sees every day on his commute. West often incorporates his daily activities and experiences into his paintings through the presence of himself breakdancing or through his densely rendered paintings and drawings of his SEPTA commute. West has studied at Temple University and Fleisher Art Memorial and has exhibited throughout the region including Art in City Hall, Savory Gallery, Fleisher-Ollman Gallery, all Philadelphia, and Gallery Aferro, Newark, NJ.
01.17

2018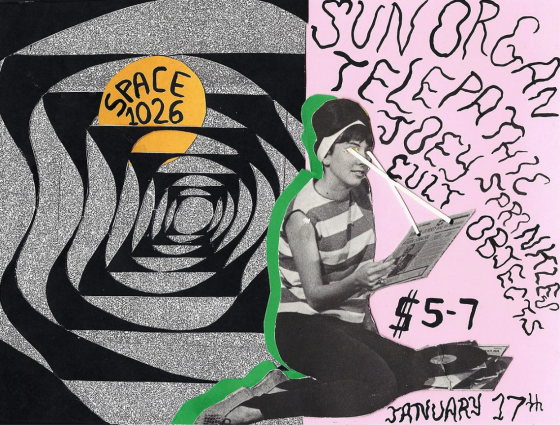 SUN ORGAN /// TELEPATHIC /// JOEY SPRINKLES /// CULT OBJECTS
Tonight! January 17th!
7pm – 11pm
$5 – $7
Space 1026
1026 Arch St., 2nd fl.
Philadelphia
01.03

2018

Do you suffer from seasonal affective disorder? Do you hate winter and need an excuse to get out of your house? Do you like the taste of cold blue Rocky Mountains? Do you know that blue is a hue? Do you know that in visual perception color is almost never seen as it really is? If any of these things intrigue you come out to 1026 Arch St, Philadelphia, PA 7-9 P.M. for a vibrant evening.
12.19

2017

Featuring: Andy Stott, Traxman, 非実体, Sigmund Washington, Prefix Moniker, World War, Orlando and more…
12.07

2017
Doors at 6 pm / Bidding at 7 pm
Space 1026 has continued to thrive for 20 years with the
support of its members past and present, the Philadelphia
community, and the generous donations from our annual
art auction.  Come and bid on art by Kristin Farr, Adam Crawford, Max Seckle, Adam Wallacavage, Tara Booth, Nate Harris, Jenna Robb, James Bonney, Matt Furie, Angela Rio, Emilia Brintnall, Miriam Singer and so many more!!
Hope to see you there!
1026 Arch St., 2nd fl.
Special shout out to Philly Stewards, one of this year's Auction Sponsors! Philly Stewards is an educational organization dedicated to the collection, support and promotion of Philadelphia's Art and Artists. Find out more here: Philly Stewards
12.04

2017
NEW THINGZ is a show where comedians do new material that they have done zero to three times before. So new! So unreliable! So brave!
New stuff from:
Annie Paradis
Pete Steele
Kate Banford
Joe Bell
Sidney Gantt
Caitlin Feeney
Jacob Marcinek
Kyle Harris
Ari Fishbein
Tommy Touhill
Hosted by Andrew Jeffrey Wright
Come for the comedy. Stay for the jokes.
Monday, December 4th
doors 7:30pm
comedy 8pm – 9:30
FREE!